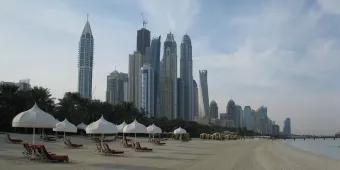 Escape the winter blues with a trip to sunny Dubai this November.
There's only two seasons in Dubai - hot, and hotter! This makes it the perfect destination for a winter holiday, where you can still pretend it's summer and enjoy the many things the city has to offer.
As the nights grow longer and the days get shorter, we're all craving sunshine and warm weather. If you're making plans to jet off for a winter holiday, make sure you add Dubai to your shortlist. The city in the middle of the desert is famed for its hot climate, beautiful beaches, and unique culture. Here's five reasons why we think you should visit Dubai this November: 

Great weather
Escaping the cold climate of the UK is most likely the main reason for your winter-sun break, and Dubai is a great destination to visit to achieve this. While the city bakes in the summer months, during October - February Dubai enjoys a more manageable climate for exploration and activities. 
November has an average high of 31 degrees, and lows of 20 degrees, also boasting little-to-no rainfall. So while the weather is still warm, it's much more comfortable than the 40+ degree heat that the city endures during the summer. This means you can happily laze around on one of the many beaches Dubai has to offer, or opt to spend the day at one of the world's best water parks - Atlantis Aquaventure. With 30 exciting rides - including one that goes directly through a shark-infested lagoon - there's loads of ways your family can enjoy the November sunshine. Check out our recent blog for Five Reasons to Visit Aquaventure: Dubai's Biggest Waterpark. 
Fantastic November events 
November is one of Dubai's peak tourist months, so there's always loads going on to entertain the visitors that flock here. This year sees the return of world-renowned annual events, including Dubai Design Week, the DP World Tour Championship Dubai, and the Abu Dhabi Grand Prix (just a 90 min drive away from Dubai). 
During Dubai Design Week, all things creative and design are promoted in events across the city. The programme covers architecture, product design, interiors, multimedia and graphic design, and most events are free to attend for the public. This year, the event takes place from 11 - 16 November. 
A bucket-list event for every golf lover, the DP World Tour Championship in Dubai takes place from 21 - 24 November this year. It's the climax of the European Tour Race to Dubai, and sees some of the best golfers compete for a cool US$3 million cheque. 
At the end of the month, visitors to Dubai will be able to venture to Abu Dhabi, for the F1 Abu Dhabi Grand Prix. Taking place from 29 November - 1 December, the race takes place over 55 laps of the 5.5KM Yas Marina Circuit on Yas Island. This is a unique and exciting way to spend a weekend away from the city, immersing yourself in more of what the UAE has to offer. 
Unique parks
It wouldn't be a visit to Dubai without a trip to one of the cities extravagant and unique attraction parks. Spend a day in a park dedicated to all things Bollywood, at the Bollywood Parks Dubai, a spectacular world where guests can enjoy cinematic rides, dazzling entertainment, authentic Indian cuisine and shopping. The park is spread over five themed zones, all inspired by some of the greatest Bollywood movies. If you weren't a Bollywood fan before, you will be after visiting!
There's also the fantastic MOTIONGATE Dubai, where guests can become active participants in the movies. Participate in some of the biggest films from three of the largest motion picture studios - Columbia Pictures, Dreamworks Animation and Lionsgate. Highlights include Ghostbusters: Battle for New York, Shrek's Merry Fairy Tale Journey, and Step Up Dubai, All In! 
For those looking for a more recognisable experience, there's also a LEGOLAND and LEGOLAND Water Park in Dubai, where family-friendly fun can be had in this spectacular city. 
Experience every season
Although Dubai might be in the middle of the desert, you can experience every season during a visit to the city. As we get closer to Christmas, you may be craving some festive fun during your trip away. Ski Dubai is the first indoor ski resort in the Middle East, and allows guest to take to the slopes and even see some penguins too. It's located in the Mall of the Emirates, which is one of the largest shopping malls in the world, so you can even complete your winter-experience with a touch of Christmas shopping too.
If you've come to Dubai to escape the snow though, fear not. There's plenty of ways you can make the most of the hot weather. Transport yourself to a unique and somewhat other-worldly environment in a Desert Safari excursion, taking you to the Arabian sands in a 4-Wheel Drive vehicle. You'll explore the full glory of the desert and feast on a barbecue over dinner at a desert camp.   
Great visibility
Some of Dubai's top attractions and experiences require clear visibility to best be enjoyed. Thankfully, the cooler November temperatures (by Dubai's standards, anyway!) mean that this month is a great time to take to the Middle Eastern skies.
Soar up to the top of the world's tallest building, the breath-taking Burj Khalifa, and marvel at scenes across Dubai and beyond. You can go to either the 124th or the 148th floor of the building, depending on how brave you're feeling! The Burj Khalifa rises to over 800 metres, and since opening in 2010 has become the centerpiece of Dubai's skyline. Don't forget your camera!

For the daredevils among us, a sky-dive over the city might be just what you're looking for. See the famed Palm Islands in all their glory, as you make your way back down to Earth in this breath-taking experience. Enjoy unobstructed views of Dubai's iconic buildings, while you float towards the ground and tick this item off your bucket-list.

As you can see, November is a great month to take a trip to Dubai, one of the most glamorous and extraordinary cities in the world. Ready to start planning your trip? Click here to browse our Dubai attraction tickets. 

Have you signed up to our mailing list? Click here to receive all the latest news and special ticket offers. 

Read next…