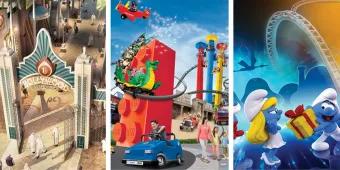 Brand new theme parks!
With 3 new theme parks and 1 new water park, Dubai is the place to be for thrill-seekers...
Dubai is set to become one of the theme park capitals of the world with the opening of 3 brand new and exciting theme parks and a water park built within a multi-themed dining and retail destination.
It has taken 3 years to develop the brand new Dubai Parks and Resorts theme park destination, which tells you a little about how much there is to explore there! The area is made up of three theme parks, a water park, Lapita - a luxurious Polynesian-style hotel - and a water front dining and retail destination called Riverland, which also serves as the gateway to the three theme parks.
LEGOLAND Dubai:
LEGO have been conquering theme park destinations all over the world with their brightly coloured, fun and interactive theme parks, which are a huge hit with younger kids in particular. The brand new Dubai park has all the hallmarks of these classic LEGOLAND parks, with giant LEGO brick masterpieces built by the LEGO master builders, more than 40 LEGO -themed rides, shows and attractions and 6 themed lands. Unique to the Dubai park though, is the totally indoor Miniland, which was adapted to work in the Dubai heat and also features all the iconic buildings in the UAE AND Dubai.
Alongside the main LEGOLAND park is the LEGOLAND Waterpark, which features 15 amazing waterslides, a wave pool and Build-A-Raft-River, where kids can get creative building their own custom LEGO raft. For the really little ones, there's the DUPLO toddler play area with specially designed slides for smaller riders.
MOTIONGATE Dubai:
Discover the worlds of some of the largest and most successful motion picture studios in Hollywood, including DreamWorks Animation, Sony Pictures Studios and Lionsgate at this incredible new theme park which is perfect for film buffs.
In the DreamWorks world, you can discover four unique lands based on Blockbuster classics such as Kung Fu Panda, How to Train Your Dragon, Madagascar and Shrek. These attractions can all be found indoors in an air-conditioned space which makes it perfect for the mid-day heat. Over at the Lionsgate World, you'll discover exhilarating, high-thrill attractions based on big-name productions such as The Hunger Games and dance hit Step Up.
Smurfs fans will love the fantasy world of The Smurfs where you can, of course meet your favourite Smurf characters in their charming little mushroom-top houses. For little ones, there are interactive play zones and exciting family rides to keep the whole family entertained. For big thrill seekers, Sony Pictures land has the Green Hornet rollercoaster which will take you on a rip-roaring ride around a junkyard (if you can handle it of course).
Bollywood Parks Dubai:
The Bollywood Parks Dubai theme park is like nothing you will have ever experienced before. If you know nothing about Bollywood films or its culture, don't worry, as it's impossible to come away from this theme park without falling in love with it. You'll feel as if you're walking along the vibrant streets of Bombay as you stroll down the main street of this colourful and diverse new theme park which aims to bring Bollywood films to life.
You can't miss the spectacular Rajmahal Theatre in the Royal Plaza, where you can watch the region's first Broadway-style Bollywood musical. If it's attractions you're looking for, join the thrill of an epic chase through the streets of Dubai as you're pursued by the illusive Bombay mafia boss, Don – a ride which will definitely get your blood pumping.
Getting Tickets:
LEGOLAND Dubai officially opened last week (31st October) and there's not long to wait before you can experience the rest of these new exciting attractions. Bollywood Parks Dubai will be opening on 15th November 2016, while MOTIONGATE Dubai opens in December 2016.
You can pre-book and purchase 1-day tickets for each of the individual parks before your trip and save money on the gate price, as well as time spent queuing for your ticket. Be even savvier though, and buy a bundle ticket which allows you to visit all 3 theme parks over an elected number of days at a further discounted rate. The 3 days/3 parks Hopper Ticket gives you plenty of time to explore each park.
Click here, to view our entire range of great value Dubai attraction tickets.
Liked this post? You may also like...