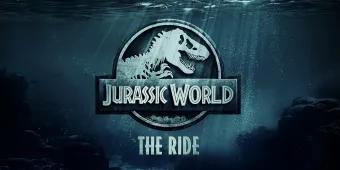 Universal Studios Hollywood has got a dino-mite new addition
'Jurassic Park World - The Ride' is finally open at Universal Studios Hollywood in Los Angeles!
After starting construction back in April, Universal Studios Hollywood have this month opened their new and updated version of 'Jurassic Park World - The Ride', promising that it is bigger and better than ever before. 
The previous ride was operating for over 22 years, and closed in September 2018, with the park announcing that it would return 'this summer' with a fresh new look. That was all the information Universal gave away about the launch, however, meaning visitors at the park on Friday 12th July were treated to a surprise official opening of the much-anticipated attraction. 
The ride is based on the cult film franchise, and is described by Universal as being much more 'immersive' than its predecessor. Promising to capture the epic essence of the blockbuster movies, the attraction harnesses the amazing minds of acclaimed filmmakers Steven Spielberg, Colin Trevorrow, and Frank Marshall. Talented teams at Universal, the Academy AwardⓇ-winning special-effects visionaries at Industrial Light and Magic and Universal Pictures, were also involved in the production of the attraction. 
Of course, the new thrill ride features the Jurassic Park film's stars - Chris Pratt, Bryce Dallas Howard and BD Wong - who take on their roles as Owen Grady, Claire Dearing and Dr. Henry Wu. 

And don't forget the dinosaurs! As well as all the classics, there's also the new addition of iconic beasts, including the colossal Indominus rex and the magnificent aquatic Mosasaurus.  
As well as the new 'Jurassic Park World - The Ride', there is also the addition of an all-new themed "Raptor Encounter" where beloved Velociraptor "Blue" interacts with guests in face-to-face encounters. A life-size Triceratops will be greeting guests outside the new attraction, alongside a Baby Raptor with her Raptor Handler.

A huge "Dino Play" area will keep children of all ages occupied too, as they explore and excavate giant dinosaur fossils. 
Fancy a snack? Take your pick of a delicious range of Costa-Rican inspired cuisine, as well as tasty Tiki Cocktails served at the Jurassic Cafe. A new tropical bar called Isla Nu-bar adds to the whole experience. Leave with an arm-full of souvenirs from the Jurassic Outfitters shop - pick up limited and one-of-a-kind dimensional sculptures, collectibles, and much more.  

Take on the Jurassic Park adventure yourself and book your tickets to Universal Studios Hollywood now. 
Like this post? You may also like...