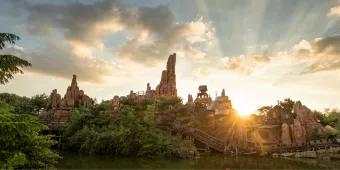 Big Thunder Mountain is back!
Disney have promised that some "explosive surprises" are in store, as the newly enhanced Big Thunder Mountain is unveiled…
It's been a long wait (13 months to be exact!), but Big Thunder Mountain has finally reopened at Disneyland Paris! This amazing family-friendly attraction is by far one of the most iconic, and was one of the park's opening day attractions. Back in November, the ride closed for a huge refurbishment in preparation of the park's 25th anniversary next April. Fans of the famous attraction will once again be able to see the runaway mine trains racing around the track, and will be pleased to know that it's been updated with some brand new exciting features!
The thing we're most excited about though, is the new explosion sequence! A combination of cutting-edge technology and immersive sensory experiences will bring the story to life. Get ready to experience the "wildest ride in the West" with plenty of twists, turns and dips along the way, as well as some "explosive surprises" when you least expect it.
If you're not familiar with the ride, it takes you on a mysterious train journey deep into the heart of the haunted Big Thunder Mountain. Back in the 1850's, miners in search of gold started to notice some eerie goings-on. As the legend goes, a powerful supernatural force dwells within, wreaking havoc on anyone who dares cross its path. From then, the mountain was considered haunted and Thunder Mesa became a ghost town.
If you're feeling brave enough, embark on a journey through the deserted town yourself. Look out for new additions like the empty cabin that belonged to the mine's last prospector, and over 1,500 fascinating props. Each of the props are authentic objects found in real American ghost towns, which makes the experience even more unnerving. The train tracks themselves have also been refurbished, and the geysers transformed.
If you're visiting Disneyland Paris soon, this ride should definitely be at the top of your list!
Want to experience the magic? Click here, to view our great value Disneyland Paris tickets.
Liked this post? You may also like…