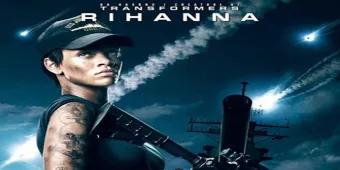 Another Universal Picture likely to pile up some serious box office rankings! But will it make it to the theme parks?
Yesterday, 13th March, Universal Pictures launched the trailer of Battleships, the entertainment company's next big film to hit the cinemas, starring pop star Rihanna!
On Twitter yesterday, Tuesday 13th March, Universal Pictures Re-tweeted a tweet by pop star Rihanna that featured a link to the trailer of  Universal's yet to be released film Battleship. Not only does the film star legendary actor Liam Neeson, but also showcases Rihanna's debut acting role.  Within a matter of minutes Rihanna's tweet had created a Battleship twitter frenzy.
The film buffs amongst us will know that Battleship was directed by Peter Berg, a director that is no stranger to creating blockbusters, such as the Transformers trilogy. Like many Universal blockbusters, Transformers has found a home at Universal Studios and will be open in May 2012, for those with their
Universal Studios tickets
to witness the film come to life.
We have little doubt that Peter Berg's vision and Rihanna's star status will lead Battleship to instant blockbuster success. But will Battleship generate an enthusiasm that will follow in the footsteps of the likes of Despicable Me and Transformers' film to theme park transition? If the trailer is anything to go by....we definitely hope so!
In anticipation of a new film to be experienced at Universal Studios, why not get hold of your Universal tickets and be the first to experience the Transformers attraction!