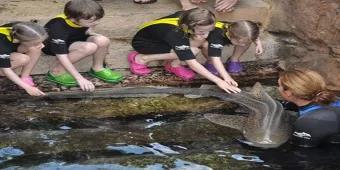 Shark attack survivor Lucy Mangnum spent her seventh birthday at Discovery Cove
Shark attack survivor Lucy MaNgnum celebrated her seventh birthday at Discovery amongst the dolphins.
Last year Lucy MaNgnum was the victim of a shark attack off the coast of North Carolina, which left her wounded on her right leg. Lucy shared her story on national TV in which she said she, 'liked dolphins way better than sharks.' To Lucy's surprise Mike Williams, a Southwest employee, happened to be watching the interview and was touched by Lucy's story. 
Mike Williams got in touch with Lucy's family and offered them his Southwest employee vouchers to Discovery Cove so that Lucy could go and swim with the dolphins. Throughout her visit at the park Lucy swam with a bottlenose dolphin and was even courageous enough to touch a calm zebra shark.  
Don't miss out on a once in a lifetime opportunity to swim with the dolphins. Get your
Discovery Cove
tickets here!