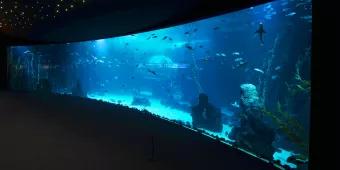 ...with the world's largest viewing window...
The brand new Poema del Mar aquarium opened at the beginning of this year – and now you can buy tickets!
A brand new and innovative aquarium with more than 350 species of marine life has just opened on the island of Gran Canaria in the Canary Islands. This new aquarium boats more three different zones to explore, keeping the whole family entertained with interactive exhibits, beautiful marine life and the world's largest exhibition curved window.
A tour of this fantastic new attraction kicks off in 'the jungle', reflecting the aquarium's commitment to showcasing the biodiversity of not just the water but the land too, and how the two environments interact with one another. Guests can explore these exhibits through a range of lagoons, glass floor tanks and even tunnels to get the full immersive experience.
Then guests come through to the "Deep Sea", a 400,000-liter aquarium that is home to colourful fishes, corals, seahorses, marine dragons and turtles, as well as extensive plant life.
Finally, the real show-stopper of this already diverse and exciting aquarium – the world's largest viewing window at 36 metres long and 7 metres high. Here you can spot manta rays, sand devils, sharks and much, much more.
To experience the stunning beauty of the Canary Islands marine life yourself, click here.
Liked this post? You may also like…