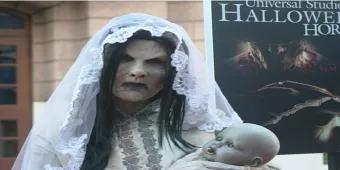 The Mexican legend La Llorona will terrorise Universal Studios Hollywood once again this Halloween!
Universal Studios Hollywood confirms that the Mexican legend that inspired the haunted maze La Llorona: Cazadora de Ninos (Weeping Woman: The Child Hunter) will return to Halloween Horror Nights this 2012!
The five hundred year old Mexican legend of La Llorona tells the tale of unrequited love; Maria, a beautiful woman from a poor rural Mexican village who falls for a rich nobleman that rejects her. Distraught and crazed she drowns herself, but not before drowning her children. According to the legend, Maria's distressed spirit still lingers at night crying and can be heard filling the night with pain filled cries as she asks, 'Where are my children?' 
Those of you that have purchased your Halloween Horror Nights Universal Hollywood tickets will be able to witness the gaunt and ghastly Maria as she haunts the Mexican village that will be featured as one of the haunted mazes. Unlike haunted mazes inspired by The Walking Dead and Welcome to Silent Hill that will be featured at Halloween Horror Nights Universal Studios Orlando and Hollywood, you will only be able to meet La Llorona at Universal Hollywood. 
However, if you've already planned to spend 
your Halloween in Orlando, the world's theme park capital, then do not despair, Halloween Horror Nights Universal Orlando tickets will guarantee you just as terrifying a time as Universal Hollywood! Universal Orlando dares you to  journey into the night and walk aforementioned haunted mazes Welcome to 
Silent Hill, The Walking Dead as well as Alice Cooper's Welcome to my Nightmare.  And this is just the beginning - Universal are yet to reveal more haunted mazes in store for Halloween Horror Nights 2012!