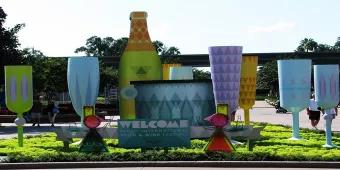 The details are in!
From the 28th September till the 12th November Disney World's Epcot will host its annual International Food and Wine Festival. Find out the culinary details here!
The last time we mentioned Epcot's International Food and Wine Festival we were unable to get all the delicious details over to you...so, food enthusiasts and wine connoisseurs, here's exactly why you need to get your Disney tickets in time for the festival!
This year the festival will introduce two brand new festival market places; The Terra Marketplace, serving up Vegan friendly dishes like Trick'n Chick'n Currty with rice and the Florida Marketplace which will get your mouths watering with an experimental approach to regional cuisine. These two new Marketplaces will be an addition to the twenty five or so Marketplaces, each offering unique and tasteful dishes from across the world.
A new drinking experience has been implemented, that makes drinks fun for the whole family. It will combine perfect foods to nibble on, like Argentinian patties Empanadas with creative non alcoholic drinks for all to enjoy and savour the taste.
Those of you that are Epcot International Food and Wine fest regulars will know that each year Eat to the Beat Concerts takes place each year. Giving you the chance to combine eating and drinking with a concert brimming with an impressive line up of recording artists! It doesn't really get much better than great food, great drinks and great music! 
Is your mouth watering? That must be your stomach's way of telling you to make sure you're at Epcot's International Food and Wine Festival this 2012!