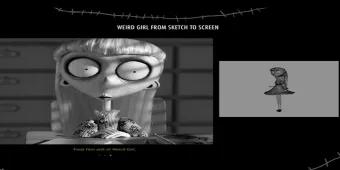 Tim Burton fans and animators will love this book!
In lead up to the launch of Tim Burton's highly anticipated Frankenweenie, presented by Walt Disney Pictures, the Disney Book Group introduces Frankenweenie From Sketch to Screen!
Tim Burton's Frankenweenie stop motion animation picture will be released in US cinemas next Friday and it would appear that animation lovers, Tim Burton admirers and Disney enthusiasts alike are collectively excited. To keep feeding your excitement Disney are doing a whole lot to make sure you're never short of some new Frankenweenie material, whether it be the release of extended Frankenweenie trailers and video footage, a touring Art of Frankenweenie exhibition, the Frankenweenie Weekend for those with Disney tickets to enjoy and now a keep sake for you to marvel at and study.
Frankenweenie From Sketch to Screen
reveals the artistry and imagination, the process and the skill that creative genius Tim Burton is able to utilise to create such enchanting narratives and seamless visuals. If you love illustration, animation or have already fallen in love with the Frankenweenie concept, Frankenweenie From Sketch to Screen is available to download on iTunes now with iBooks 2.
Disney World's Frankenweenie weekend will be held this weekend, Friday 28th – 30th September at Downtown Disney, so if you're headed to Disney World this weekend, be sure to use your
Disney tickets
to experience a weekend held in honour of Tim Burton's Frankenweenie!