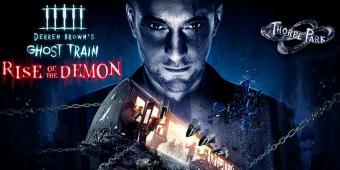 THORPE PARK Resort tickets now on sale!
Fancy yourself as a bit of a thrill seeker? Put yourself to the test on THORPE PARK Resort's most terrifying ride…
As you know, here at ATD we like to test the best theme park rides and attractions to let you know which ones you NEED to try. So, we can tell you first hand that this one is a must-try! Derren Brown's Ghost Train: Rise of the Demon is absolutely terrifying! It's the kind of fear you secretly enjoy though, the type that makes you want to experience the ride over and over again. One thing's for sure, it's definitely not for the faint-hearted. If you think you're brave enough to face the newest attraction at the THORPE PARK Resort, tickets are now on sale!
Originally opening last year, Derren Brown's Ghost train has recently been enhanced to make it even scarier than before, thanks to state of the art technology and a "new terrifying destination". The experience begins when you come face to face with Derren Brown, who appears in hologram form. You'll feel as though he's actually in the room, as he gives you a warning of what's in store and asks you to keep the secrets to yourself. His warning may make you want to turn back, but by this point, it's already too late!
Here's a sneak peek of the ride, but don't worry, there aren't any spoilers...
Get ready to embark on a journey into the unknown, as you board an old Victorian train carriage, that's suspended in the air by chains, over a dark abyss. While the inside might look like a modern-day tube, don't be fooled. This is going to be the most terrifying journey of your life!
This amazing ride combines live action, with thrilling physical effects, and incredible virtual reality technology that brings the frightening story to life and places you right in the middle of the action. You'll be on the edge of your seat the whole way through!
We don't want to give away too much for two reasons, one because Derren Brown told us not to, and two, because we want you to be able to enjoy the ride for yourself. Although, you can probably guess by the name 'Rise of the Demon', that there are some pretty horrifying creatures that might be joining you for the journey. One thing we will say, is the ride has a pretty impressive grand finale, unlike anything you've seen before! You really won't want to miss it.
If you're ready to brave Derren Brown's Ghost Train, then good news, we have now added THORPE PARK Resort to our range of great value attraction tickets! A One Day Ticket and Hot Dog Meal Deal includes THORPE PARK Resort admission as well as a hot dog, fries and soft drink, with prices starting from just £33. You'll be able to enjoy the park's world-class rides, including Stealth (which takes you from 0-80mph in under 2 seconds!), The Swarm (the UK's first winged rollercoaster), Saw- The Ride (which features a heart racing 100-foot drop) and the I'm a Celebrity… Get me Out of Here! Maze.
Want to be one of the first to experience this amazing attraction for yourself? Click here, to view THORPE PARK Resort tickets.
Liked this post? You may also like…