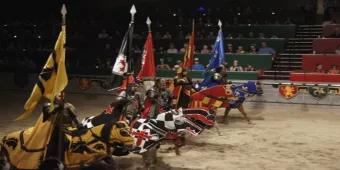 Enjoy a feast fit for a Medieval king!
On the 26th June North America's longest running dinner show Medieval Times reveals never seen before material and a new menu!
Yesterday we informed you of an enhanced Medieval Times Dinner Show debuting in Kissimmee Orlando on the 26th June! Of course, we're so excited about this at ATD, firstly, because we know just how much Orlando holiday makers love a dinner show, secondly, because this is the first time Medieval Times have updated their material since 2007 and thirdly, they have been working on the updated dinner show for two years – It's bound to be brilliant!
In addition to the new costumes, sequences and battle scenes Medieval Times will introduce an upgraded menu.  With your bare hands you can indulge in a feast fit for a king! The new menu inclueds:
• Tomato Bisque
• Focaccia Bread with Olive Oil and Seasoning
• Oven Roasted Chicken
• Larger BBQ Spare Rib
• Herb-Basted Potato Split into Quarters
• Braided Apple Strudel
• Larger Beverage Servings and Coffee
Medieval Times have definitely pulled out all the stops for this one ...who said dinner show food was substandard?!
Those of you with your
dinner show tickets
will know just how thrilling a dinner show is and how much effort and detail goes into creating these breathtaking productions, but Medieval Times is north America's longest running dinner show, which definitely speaks volumes! Check out our
Medieval Times tickets
here!