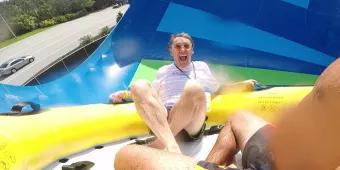 By ATD's Florida Experts, Susan and Simon Veness
Aquatica's skyline takes on a new shape with the debut of its brand new Ray Rush water ride. That's "Ray" as in, manta ray, and "Rush" as in, the feeling you get as you skim through the water like the slide's namesake sea creature. Hold on tight: it boasts three new elements the park has never seen before!
Ray Rush family raft ride rises nearly 60 feet high, taking the place of the former Hoo Roo Run in the far left corner of the Aquatica water park, with one arm of the tube extending out over Water Park Way, the road leading into the park. But it's the massive half-pipe that really catches your eye, so let's climb up the stairs to the top of the tower, where loading for the ride takes place, and find out why!
This new offering is a family ride in every sense of the word, and each inflatable raft seats up to four riders, with the standard flaps along the bottom that let water slosh in, and straps to hold on to as you barrel down the tube. But the moment your raft starts its downward journey, one of the slide's three new elements kicks in. Water jets launch the raft into the first part of the tube with enough strength to make you sit up and take notice. It's a fast, dynamic start, and the perfect set-up for what's to come.
You also get the extra element of the fountains that shoot a tunnel of water out of the tube's sides immediately after launch, so there's no way you're taking this ride without getting soaked.
Mere moments after you enter the tube, your raft plunges into the slide's second unique element: a gigantic translucent sphere that glows like a light-up toy, giving off a distinct "under the sea" sensation, as if you're in shallow water, looking up.
But deeper water is just ahead, and as you enter the next part of the tube, all in dark ocean-blue, you symbolically become a manta, and it feels like you're "swimming with the rays" as you pass under a stream of the animals in question, imprinted on the roof of the tube. The fever of rays (yes, that's the collective name for a group of rays; use that little bit of trivia to impress all your friends!) give the added sensation of movement, but it's nothing in comparison to what comes next.
Just like a manta jumping out of the water, your raft plunges down a sharp drop before heading skyward as you slide straight up the ride's signature element, an open air half-pipe that mimics a manta's streamlined body. But this is no wimpy ray. No sir! You're going up not once, not twice, but up to three times, before plummeting back into the "sea" for the final leg of the journey, a zippy tunnel with circular lighting that gives a real time-warp effect, as you return to your human form before plunging through a final curtain of water and into the splash-down zone.
The whole experience lasts just over a minute, but it seems a lot longer, and there are so many different elements that you feel as if you've ridden several different slides in one.
David Heaton, vice president of Aquatica Orlando, says, "The experience on Ray Rush will be unlike anything offered in Florida. Aquatica is the first water park in the state to seamlessly combine these three unique slide elements into one attraction. The combination of these elements creates a ride experience that is both thrilling and family friendly. It's the perfect addition to our slide portfolio."
But this isn't the first time Aquatica has introduced a new kind of thrill to their watery offerings. Ihu's Breakaway Falls, with its drop-away floors, became an instant hit with park-goers, partly because it's scary as all get-out, but also because of the pre-drop build-up. Standing in the slide tube, arms crossed over your chest, waiting for the world to fall away below you was terrifying enough, but enduring that heartbeat—the one piped in over a sound system—only made your own heart pound that much harder.
Another first-timer on the Orlando water park scene was Roa's Rapids, with its fast current that whisks swimmers along in hilarious and totally addictive fashion. Lazy rivers are for sissies, it insists, and we're inclined to agree. It quickly became our favourite "river" because it feels more like a ride than an attraction meant for floating and bobbing, as is traditional for water-park rivers. It's not that we don't love a good, lazy meander; it's just that we make that the next stop after battling Roa's crazy current. And, like most guests, we go around at least one more time than we expected, since there is always one person in our group who can't quite make it out of the current when they reach the exit. At least, that's the excuse we always give, and we're not alone in that little white lie!
Aquatica keeps the "family" in "family raft ride" by having a height requirement of only 42 inches (107cm) at Ray Rush, meaning all but the youngest children will be able to experience the attraction. And that's a good thing, especially because it's the next-door neighbor to the Walkabout Waters kid's splash zone and water playground.
Watch the full video here:
Ray Rush is the latest in thrilling water adventures in the SeaWorld line-up, but we're eagerly awaiting the summertime debut of the Infinity Falls water attraction and village in the SeaWorld park. As Brian Morrow, former Vice President Theme Parks Experience Design at SeaWorld Parks and Entertainment, said, "Infinity Falls will be filled with 'play with a purpose,' giving guests the chance to do physical play activities around the ride's village area, and their interactions will immediately help the freshwater ecosystems. That kind of design with a purpose is something nobody else is doing. The Infinity Falls ride will be amazing, but it's also about learning. We focus on bodies of water around the world, and by doing that it gives us a wide breadth of stories we can tell."
After you've flown through the air like a ray on Manta roller coaster in SeaWorld, get your cool on and experience the thrill of flying through the water like a manta on Ray Rush at Aquatica!
Get your tickets to experience this and SeaWorld's imminently open new attraction this summer. Click here to find out more. 
Liked this post? You may also like...