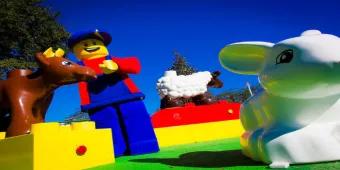 By Susan and Simon Veness
You've built castles, Star Ships, trains, and skyscrapers with them. You've stepped on them in the dark and cursed the pain coursing through your foot. And you've probably given them as gifts to the children in your life. Everyone loves LEGO, and now there's even more to be excited about, as LEGOLAND Florida welcomes pre-schoolers to DUPLO Valley.
From the time you were old enough not to stick those tiny LEGO bricks in your mouth, your parents probably bought you the educational building kits that debuted in 1958, the brainwave of Danish carpenter Ole Kirk Kristiansen. Today, more than 514 billion bricks have been made, catering for every age, 'from birth to collector'.  And, while some children are born engineers, making all manner of imaginative creations with the Basic and Supplementary LEGO sets available in the 1950s, some of us were lucky to build a flat wall without any weak points. 
In 1964, LEGO introduced their first Model sets with building instructions, and us construction-challenged tinkerers were finally able to take pride in our trains and rockets, just like the smart kids did. The LEGO DUPLO line of larger bricks appeared in 1969, allowing pre-schoolers to play safely with bright bricks and cheerful toddler-friendly characters as well. The first mini-figures then appeared in 1974 and, from then on, it was full steam ahead. 
The LEGO company has always had a passion for education through play, expanding children's creative curiosity first through the world of building blocks, then bringing those mini-worlds to life in their LEGOLAND parks. And that is where the new DUPLO Valley comes into its own.
Based on the 1985 building set, LEGO DUPLO Farm, it is the perfect activity setting for under 6s, like arriving in a mini-land that is sized just for them.  Our media preview came a day before the official May 23 opening, and we were able to see for ourselves how this latest expansion of the park fits in to its rapidly-growing profile that added a Water Park in 2012, the World of Chima area last year and now DUPLO Valley – with the LEGOLAND Hotel on the horizon for 2015. 
Just to start with, the park's designers have cherry-picked some of the most iconic parts of the DUPLO world. Or, as general manager Adrian Jones admitted: "We opened up the set and said, 'We want to build that ride, and we want to build that ride!' And that's pretty much how it worked out. We think kids are going to love it."
It's certainly an eye-catching look, headlined by the DUPLO Tractor and the DUPLO Train, as they provide contrasting kiddie-sized journeys through the farmyard and its countryside, complete with all manner of farmyard sounds and even smells from the new-mown hay. There are interactive points for youngsters to push buttons and create more animal noises, while the Splash & Play area guarantees plenty of watery fun, with more buttons to push and fountains to run around in.
A Tot Spot adds a covered area of DUPLO blocks to play with and things to climb on while the farm-style Snack Bar offers fresh popcorn and cold drinks. The DUPLO Farm is then a clever inside playground for young 'uns to run, slide and climb in air-conditioned comfort, while also providing a Baby Care Centre and a Toddler Play Room for the youngest visitors.
Jones explained: "I think this was the last missing piece of the jigsaw for us and it guarantees fun for the 2-5 age group. We have done a lot since we opened three years ago and, while I'm never 100 per cent satisfied, I think we have a great range of attractions that all showcase the LEGO style really well. The Hotel will be the icing on the cake next year. It is a beautiful location on the lake front but it is also situated next to the main entrance so kids will be able to wake up right next to the park and ready for all the fun."
The opening of DUPLO Valley – celebrated with a special inauguration starring LEGO favourite Buddy and a lucky family chosen to be the first into the new area – is not the end of the park's development, though, even with the new hotel rapidly taking shape on the shore of pretty Lake Eloise.
Jones also indicated there will be more DUPLO and other toddler play areas – more Tot Spots – next to some of the bigger rides in months to come,. He added: "I think there is still more to be done in terms adding more LEGO and extending the DUPLO theming so families don't have to separate in parts of the park. Our demographic is obviously quite young but we do have some bigger thrill rides and we don't want families to have to split up to do them, hence we'll be adding those Tot Spots in key places."
The genial British LEGOLAND boss believes the park will benefit additionally from parent company Merlin Entertainments' investment in the new Orlando Eye project, currently being built on International Drive in Orlando, along with a Madame Tussauds and SeaLIfe Aquarium at what will be I-Drive 360 when it all opens next year.
Merlin have announced there will be new joint tickets for LEGOLAND and its I-Drive attractions, making for even more value from this fast-growing entertainment company, and it seems clear Jones and his brick-tastic park will have plenty to keep them busy in the years to come. 
And that funny name Ole Kirk Kristiansen chose for his ingenious building bricks? It's as much a command as it is a brand, coming from the Danish statement, Leg Godt. Its meaning?  "Play well"! We do, you know.
Finally, we would like to thank
Attraction Tickets Direct
 for allowing us to share Orlando with you all via this weekly blog. Today is our 1-year anniversary of compiling these reports, which began with the opening of Antarctica: Empire of the Penguin at SeaWorld. We look forward to continuing to share the latest news from the greatest holiday destination in the world!
Be sure to check out LEGOLAND Florida's new DUPLO Valley on your next Florida theme park holiday with our range of LEGOLAND Florida tickets.
Happy Friday Readers!