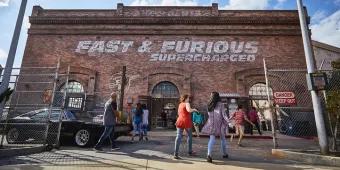 By ATD's Florida Experts, Susan and Simon Veness
When Orlando's theme parks throw a party, you know it's going to be special. And that's exactly what happened with Universal Orlando's grand opening event for their brand new Fast & Furious—Supercharged attraction. Come along with us for an evening of cars and stars!
Whenever a theme park puts on a media event for an attraction that involves celebrities, a buzz goes through the crowd during the build-up, wondering "Will they be there or won't they?" Fast & Furious—Supercharged, the newest attraction at Universal Studios, was no exception. Would one of the stars from the movie franchise The Fast and the Furious be there? Would it be the main man himself? And what was that big ramp for?
For those who don't know the movie series, actor Vin Diesel (who was also the voice actor for Groot in the Guardians of the Galaxy movies) plays ex-convict and street car racer Dominic "Dom" Toretto, who, along with his band of good-hearted renegades, foils the bad guy, blows a lot of stuff up, and then wins or is given a supercharged hotrod instead of facing consequences for all those explosions. In short, they are high-action, non-stop, fast and furious fun!
The two-day event started with time exploring the park before heading into CityWalk for the first of two grand opening events, this time at Voodoo Doughnuts, whose motto is, "The Magic Is In The Hole."  We're not sure why that's their motto, because the two doughnuts we tried most certainly proved the magic is in the entire bundle of tasty goodness! There are 50 varieties, 12 of which are gluten free, and along with the iconic Voodoo Doll and the Maple Bacon Bar, which put Voodoo Doughnuts on the map, there is a gigantic Texas doughnut that's as big as your head! (Hint: get the Voodoo Doll and bite into its side. You'll get a super creepy—but super delicious—surprise!)
After more park touring the next day, it was time for the main event. We started in a backstage studio, where Stephanie Green (Project Director Universal Creative), Don McClean (VP Attraction Development) and Thierry Coup (Senior VP Universal Creative) gave us insights into the creation of the attraction, including the use of "2-D technology" that allows guests to experience the visuals in 3-D without having to wear 3-D glasses.
As the sun began to set and the day guests made their way out, we were escorted to the San Francisco area of the park, where Fast & Furious—Supercharged now occupies the space where Disaster! (and Earthquake before it) used to be. Food stations and bars lined the street, and a large stage had been set up, with a Garage façade to its left, a locked chain-link fence behind it, and a red sports car, sleek and expensive, out front.
After a jaw-dropping dance routine by Academy of Villains (of Halloween Horror Nights fame), the evening's host was joined onstage by Jordana Brewster (Mia Toretto in the movie) Ludacris (Tej Parker) and Tyrese Gibson (Roman Pearce), and within minutes the roar of supercharged engines were heard. Dom Toretto's black Dodge Charger came screaming around the corner, fishtailed in front of the stage, and shot out of sight, with a tank-like Hummer in hot pursuit. As the charger whipped around the corner, the Hummer kept going and launched itself straight through the Garage wall, with a massive explosion that shot flames high into the night sky.
The crowd went wild as Vin Diesel made his grand entry, and welcomed the assembled guests into the "Fast & Furious family" shouting, "Who's ready to see this ride?" After telling us he and the cast were thrilled guests would be able to experience what it's like for them to film the Fast & Furious movies, he blew open the chain-link fence and, as he promised, we were "among the first in the world to experience the ride."
Media, VIPs and invited guests streamed through the entry, past Dom's car parked outside a warehouse and into what turned out to be a long, winding queue. It began in a park-like area, which wound past a picnic table with empty and mostly-empty bottles of Corona beer, set up as a nod to Dom's family's picnic table from the movies. Next, we entered the team's car repair and detailing garage, a front for their secret hideaway and filled with tyres, tools, spare parts, and, of course, outrageous "muscle cars" from the movies.
After that, we entered the team's Break Room, where Pat, a live actor, set the scene: you're getting ready to board a party bus for a Race Day after-party celebrating Dom's win in a big race. And, as everyone knows, Dom throws the best parties, so "you're in for a really big treat!"
Next up was Tej's War Room, where the team's real work takes place, and it's here that you're told the party buses are ready. But wait…Dom calls as you're waiting, and reveals there is villainy afoot. The FBI is about to raid your location, and not only that, but they're leading the bad guy right to you. It's time to bug out and get on those buses!
The buses look like what you'd expect to see if Skull Island: Reign of Kong's vehicle and the Scoop-mobile from The Amazing Adventures of Spider Man had a baby; large, slick, with side panels that raise up for easy entry. And once you're seated, the real action-adventure begins. Because (again, as you'd expect), that's where it all goes wrong.
3-D style action surrounds you as Dom's team race around San Francisco on all kinds of tricked-out vehicles, from super-trucks to futuristic helicopters with rockets and machine guns, and explosions rain down around you (don't worry, the spray you feel isn't really petrol, because that would be like, dangerous, right?).
We won't give away the rest of the story, but suffice to say, it will leave you breathless. We re-boarded immediately, and our consensus is: try to sit in the middle rather than on one side or the other for the best experience, and don't be afraid to use the hand straps attached to the seats. It's going to get bumpy out there!
Just like the Race Through New York Starring Jimmy Fallon attraction, guests can schedule a return time to help minimise long waits. There is also a special mobile experience once you're in the queue, for those who have the Official Universal Orlando Resort Mobile App, that unlocks secret messages, character biographies, quizzes, and more.
Watch the video to find out more...
Just be careful out there. After all, now you're part of the Fast & Furious family!
Have questions about Fast & Furious - Supercharged? Join us on Attraction Tickets Direct's discussion forums!
Liked this post? You may also like...