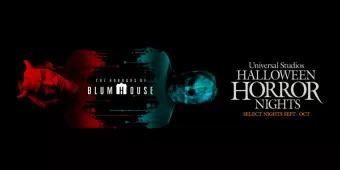 The third of this year's houses is here!
This all-new house is inspired by Blumhouse's Freaky and their most recent thriller The Black Phone
Are you ready for a double dose of terror? Because the latest house to be announced as part of the this year's Halloween Horror Nights line-up will give you just that. 
The Horrors of Blumhouse is a brand-new house that will feature at both Universal Orlando Resort and Universal Studios Hollywood. This haunted house takes inspiration from two of Blumhouse's thrillers; the horror-comedy Freaky and their newest release The Black Phone. 
The Freaky section of the house will focus on 'The Butcher' who has switched bodies with a high school girl after being cursed by the La Dola Dagger. She may seem innocent, but this serial killer is on the hunt for their next victim, and it could be you. And that's not all, as 'The Grabber' from The Black Phone will be using his twisted magic in an attempt to make guests disappear… forever. As you make your way through this 'fun' house you'll hear ghostly whispers offering hints on how to escape but who knows if you'll be able to outsmart this demented magician. 
This isn't the first time that Blumhouse's well-known horrors have made an appearance at Halloween Horror Nights. In 2017, it was the turn of Sinister, Insidious and The Purge to be scaring guests out of their senses. 
The Horrors of Blumhouse joins Universal Monsters: Legends Collide and Halloween so far, and with just two months to go until the premier Halloween event of the year, even more houses will be announced very soon! 
Don't miss out! Make sure you get your Halloween Horror Nights tickets while there is still availability!