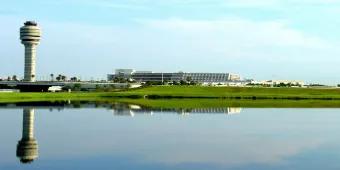 ....has been implemented at Orlando International Airport
Dealing with Immigration after a nine hour transatlantic flight is the bane of most travellers' holidays. You're tired, you're grotty, and you just want your long-awaited holiday to start. Good news: Orlando International Airport's new Automated Passport Control System has just made the process much, much easier.
You know the drill: sort out your ESTAs before you travel, settle in for a long flight, fill in the Customs Declaration Form without making any mistakes, then answer a series of questions from the Customs agent. It's the longest 2 or 3 minutes of your trip when you're cranky and the kids are clamouring to get to the pool. With the Automated Passport Control kiosks, those 3 or 4 minutes spent with an a
gent are cut down to 30 seconds, and you're on your way to enjoying a magical holiday.
Multiply that by the average number of people arriving on a Jumbo, and the overall time saving is significant. In fact, the airport administrators say it should cut the whole queuing time down by as much as 35%.
Here's how the process works:
Visa Waiver travellers arrive in the immigration hall, and when they reach a kiosk they simply touch the screen to begin the process. The next screen allows you to choose your language, then you're taken to the Customs Declaration Form. Touch each correct answer on the screen, scan your passport when prompted, state the purpose of your visit (touch Business or Pleasure),scan your four fingers on each hand, smile for the picture, confirm if you're alone or with family, and you're done! The system generates a receipt, which you then take to the Customs agent, who will ask how long you're staying and what you'll be doing, and before you know it you're on your way to baggage claim. Easy!
There are a few restrictions: by law, children 13 and under and Seniors aged 80 and up cannot use the scanners. But there is a special queue just for travellers who are (or who are with) visitors of those ages, keeping the process smooth. Visitors who have never been to the US, or have not been since 2008, must also forego the kiosk and visit an agent. 
If you can't remember all of that, don't worry. There are agents on hand to direct you to the correct queue, and plenty of video reminders. It's a big boon for U.K. visitors, and a welcome change that speeds you on your way to the heart of the magic that much sooner.
ASK SIMON AND SUSAN
Derrick Marrs: We will be in Orlando for Fourth of July. Is there anything special going on in the parks, and will we have to pay extra?
Susan and Simon: Disney's Magic Kingdom and Hollywood Studios parks will have special Fourth of July fireworks shows in the evening, and Epcot adds a patriotic finale to the IllumiNations laser light show. The wonderful Voices of Liberty acapella group at Epcot add to the atmosphere by singing patriotic songs at the American Gardens theater; Mickey and his Friends appear in historical costume at the American Adventure pavilion; and Hollywood Studios adds a special dance party with a DJ.  Be aware, the parks can close to capacity as the locals flood in for the evening celebrations (especially at Magic Kingdom), so plan to arrive early and stay all day! All of these added features are included in your park admission.
Justine Martin: Other than the parks, where is a good place to spend Christmas Day?
Susan and Simon:
You are wise to plan in advance! We're big fans of enjoying your accommodation for the morning, then heading over to Gaylord Palms resort for their big
ICE!
 display. Each year the resort has a massive themed indoor ice sculpture event, with carved and coloured scenes that are larger than life. There are even ice slides the whole family can try. Along with ICE!, you'll find live Christmas-themed stage shows, daily Christmas Tree lighting, festive food and beverage (hot cocoa, anyone?), fun games for the whole family, and, of course, Santa Claus. All of it (other than food and drink) is included in admission. It just might become part of your family's annual celebration!
If you're planning a visit to the Sunshine State, for the 4th of July or for Christmas, be sure to plan ahead and get your Orlando attraction tickets in before you travel. Attraction Tickets Direct have a range of theme park tickets that will grant you admission to all the major Orlando theme parks and more!