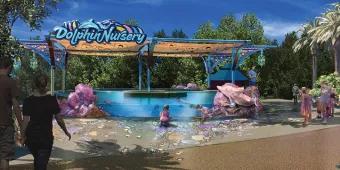 Yesterday we made a big SeaWorld announcement and today we have a few more!
Find out what brand new features are coming to the SeaWorld Orlando and the SeaWorld California parks.
Yesterday we broke the news that The Kraken rollercoaster was getting a virtual reality makeover, with the addition of specially-designed headsets that transport you into the underwater world of the The Kraken as you speed around this incredible roller coaster.
As if that wasn't enough, SeaWorld continued to make announcements about brand new attractions, improvements and upgrades coming to their parks over the next year. The announcements kicked off with the news that SeaWorld Orlando's dolphin nursery will become much more interactive in summer 2017 and will offer guests the chance to get a better view of the dolphins and their babies than ever before. As guests take in the sight of these beautiful creatures, animal educators will also be on hand to teach them about the animal care team and how to preserve dolphin habitat in the wild.
The second announcement was for Seaworld's California park, where the team had already released some information about the brand new Ocean Explorer area. Yesterday it was revealed that the signature attraction for the area will be called Submarine Quest and will take 'adventurers on a global expedition of scientific exploration, travelling aboard submarines to see Ocean Explorer's remarkable undersea animals'. Of course, Submarine Quest won't be the only attraction in this new area, with multiple aquariums, interactive displays and 4 other new family-friendly rides.
As well as the Ocean Explorer expansions, SeaWorld California also had some big news to reveal on their brand new Orca Encounter. This will replace the current shows and will encourage guests to learn more about orca conservation, habits, social structures and how to take care of these majestic creatures. This new experience will debut at the SeaWorld California park in summer 2017, followed by the Orlando park and finally by San Antonio by 2019.  
In the evening at SeaWorld California, feast your eyes on the brand new end of day festival 'Electrical Ocean', where the ocean comes to life with bioluminescent lighting, music and a 'glowing sea of wonder'. Not too much information has been revealed about this new festival, but we do know it is set to debut in summer 2017.
Over at Busch Gardens, a brand new show will be starting in May 2017 based on the Emmy-nominated show The Wildlife Docs. The new show will literally bring the programme to life in a live-action version directed by acclaimed Broadway director Jeff Whiting.
This Christmas, Busch Gardens will also be showcasing a brand new show involving Rudolph the Red-Nosed Reindeer and friends. Rudolph's friends who are set to appear include Clarice, Bumble, the Abominable Snow monster and Yukon Cornelius. This show is also set to return in the 2017 season, so don't worry if you miss out this year!
Last but not least, and one of the announcements we're most excited for, is the start of the Seven Seas Food Festival in 2017, a concept which has already proved extremely popular in the San Antonio and California SeaWorld parks. The festival showcases internationally-inspired food from all the corners of the earth and is anticipated to be similar to Epcot's Food and Wine festival. We can't wait to try it out!
Planning your 2017 Orlando or California holiday? Don't miss out on all these amazing new attractions and festivals – book your SeaWorld Parks Orlando or SeaWorld Parks California tickets today.
Liked this post? You may also like…