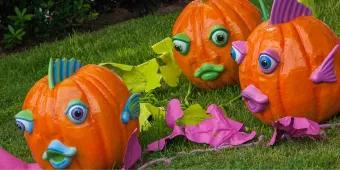 The seas are about to turn spooky!
SeaWorld are hosting a series of Halloween fun weekends throughout October! Make sure you don't miss out…
Described as "an underwater 'fantasea' with silly spooky shows, fun crafts and trick-or-treating" this Halloween event is great for the whole family. Starting from 1st October, the celebrations will take place every weekend until 30th October (from 12pm)
What's even better, is that the Halloween Spooktacular is included with park admission! This means you can enjoy the frightening festivities and make your trip to SeaWorld unforgettable. See the park like never before, as it undergoes the ultimate transformation where the sea combines with Halloween. Here are some of the things you can't miss…
Trick or Treating:
It wouldn't be Halloween without a bit of good old-fashioned trick or treating! SeaWorld know this, and have promised that "kids will be swimming in Halloween goodies". Tasty candy stations will be set up across the park, so that the children can embark on a trail collecting plenty of sweets and treats along the way. All you have to do is follow the special Halloween Spooktacular pathways.
Penelope's Garden Party:
Penelope's Garden Party is the place to be and you're invited! A live DJ keeps the party tunes going at this 'underwater' celebration. Guests will have the chance to get up close to some of the park's beautiful animals including sleepy sloths, with special animal encounter opportunities. Make sure you've got your camera ready as you won't want to forget a single moment. 
There will also be plenty of colourful sea characters attending the party while bubbles float overhead. Children will be provided with craft materials to make their own under-the-sea creations and will even be able to get their face painted with something spooky. 
Spooktacular Dance Party:
Join hostess Princess Penelope and her 'under-the-sea' friends for the Spooktacular Dance Party. One of the final events of the day, this is the perfect way to end your spooky SeaWorld visit. Head to the Village Square an hour before the park closes and you'll be just in time to see the party kick off. As clouds of bubbles fill the air, watch the procession of characters display their best dance moves and experience the fun for yourself as you're asked to join in.
Sesame Street's Countdown to Halloween:
Take a break from exploring the park and get ready to sit back, relax and enjoy the show. Join your favourite Sesame Street characters like The Count, Elmo, Abby and the rest of the gang, in a laugh-out-loud show called 'Sesame Street's Countdown to Halloween'.
The Count has been feeling lonely and it's down to the Sesame Street monsters (along with a bit of help from the audience) to help get him back into the Halloween spirit. Expect bats, skeletons and spooky songs in this energetic show. Make sure you check the show times when you arrive at the park so you don't miss out.
Cookies with Cookie Monster:
If you just can't get enough of Sesame Street, you'll love this special meet and greet. Share a delicious cookie with the lovable Cookie Monster himself at the Seafire Grill! You'll have plenty of time to take photos too, and will even get a commemorative printed photo to take away. This event is a separately ticketed event costing $19.
If you want to join in the fun, click here to view our great value SeaWorld tickets.
For more blog posts like this try…