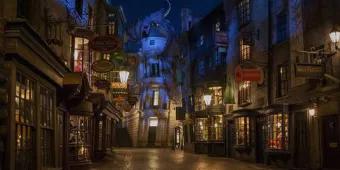 Last week Universal held an exclusive VIP preview event to show-off of the new Wizarding World of Harry Potter – Diagon Alley and finally gave us excitable muggles an official opening date of the 8th July 2014…13 days and counting!
Now that Diagon Alley has been unveiled and all of the juicy details have been released I thought I would share (what I consider to be) the best bits which include the Hogwarts Express, The Knight Bus, entering Diagon Alley and the shops, Knockturn Alley and of course the innovative new ride Escape from Gringotts. 
The Hogwarts Express runs between Islands of Adventure and Universal Studios allowing guests to board at the new Hogsmeade train station to travel to Diagon Alley or get on at King's Cross Station to make the trip to Hogwarts. Each direction offers a different experience with lots of special effects when you look out of your carriage window. The train journey lasts around 5 minutes and you will catch a glimpse of a few Harry Potter characters as well as the beautiful English countryside with some special wizarding touches to really immerse you into the Harry Potter experience. 
The Knight Bus
When you arrive at Kings Cross you will encounter London's embankment with plenty of Harry Potter references for fans to pick up on. You won't miss the purple Knight Bus which will be parked in this area and will feature an interactive moment between the conductor and the shrunken head inside. 
Entering Diagon Alley and the shops
When guests pass through the brick wall into Diagon Alley it is guaranteed to be a fantastic moment which will take your breath away (even if you are not a mega Harry Potter fan). The high level detail of the famous wizards shopping street is astounding and offers real believability and authenticity. 
If you are looking to spend some money Diagon Alley is definitely the right place to be. The main shops to look out for are Weasleys' Wizard Wheezes, Wiseacre's Wizarding Equipment, Madam Malkin's, Magical Menagerie, Quality Quidditch, Scribbulus and of course Ollivanders Wand Shop where the wand chooses you. 
Ollivanders Wand Shop – This is the most interactive shop on Diagon Alley and due to its popularity Universal are keeping the previous Ollivanders in Hogsmeade. There are hundreds of wands on sale and you can get one of the new interactive wands for $45 dollars. 
Weasley's Wizard Wheezes – This shop is of course run by twin brothers Fred and George Weasley and the exterior exactly matches its appearance in the Harry Potter films. Step inside and you will be able to find great prank products such as  Dungbombs, Hiccough Sweets, Frog Spawn Soap, Sugar Quills and Nose-Biting Teacups.
Wiseacre's Wizarding Equipment -  Here you can purchase random collectibles from the Wizarding World that don't fit anywhere else such as Hogwarts express items, butterbear shirts, hats and other things. 
Madam Malkin's – This is the place to get kitted out in all the Hogwarts House gear as it contains everything from robes to formal wear. 
Magical Menagerie – If you are looking for something soft and cuddly then make sure you check out Magical Menagerie. You will find snakes, frogs, birds, owls and other fan favourite Harry Potter pets. 
Quality Quidditch – As the name suggests this is where you will be able to find everything Quidditch related including brooms, posters and the sports kit. 
Scribbulus – This store features a large assortment of stationery items such as working quills and notebooks. 
Knockturn Alley 
Harry Potter fans will know that Knockturn Alley is where the bad/evil wizards who are up to no good will venture and you will be able to find it in the darkest corner of Diagon Alley. Knockturn Alley is dark and winding making it easy to get lost. The temperature will drop when you enter as storm clouds will gather overhead making it a great place to escape the hot Florida sun. 
There are also plenty of darker wizarding materials to purchase at the notorious Borgin and Burkes. You will discover familiar elements in this store such as a decrepit hand that grabs at guests as they pass by as well as the vanishing cabinet with the sound of a bird chirping inside. 
Escape from Gringotts 
And now for the big one which is being described as the next generation of thrill ride – Harry Potter and the Escape from Gringotts. Even the queue will be amazing as you will have huge rooms to pass through filled with elaborate special effects and lifelike characters. You will then get in a lift and ride down into the Gringotts Vaults. From here you are ready to jump into the cart and ride into the unknown...
Harry Potter fans have so much to be excited about and even non Harry Potter fans will find it difficult to not be impressed at just how cool and impactful the new Wizarding World of Harry Potter Diagon Alley is. 
If you are planning to go to Universal Orlando and want to get the full Harry Potter experience all our Universal Orlando tickets will give you admission to Hogsmeade (Islands of Adventure), Diagon Alley (Universal Studios) and of course will allow you to ride on the Hogwarts Express.