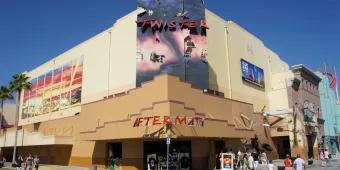 The much-loved Twister ride will take its last spin on November 2, 2015
Twister ride closure makes way for further expansion at Universal Studios Florida
It was announced last night on the Jimmy Fallon show that a brand new attraction, featuring the man himself, will be built at Universal Studios Florida in 2017. Fans of Fallon will recognise him from The Tonight Show with Jimmy Fallon, an NBC institution which features hilarious comedy sketches, celebrity guests and, best of all, a lip-sync battle segment which gets seriously competitive.
To give you a small taster of the show, here's Jimmy announcing his new namesake ride:
Race Through New York with Jimmy Fallon will be a 3-D ride, modelled on similar technology used in the Wizarding World of Harry Potter. Fallon also alluded to the use of 4D elements, such as smoke, smells and water effects which will help make the race a truly immersive ride experience!
Unfortunately, to make way for this fantastic new ride, the long-standing 'Twister' attraction will be closing at the start of November 2015. Opened in 1998, 2 years after the film's release, the ride has long been a favourite among park visitors. However, in recent years it has begun to feel slightly dated and it is probably about the right time for this attraction to close its doors to make way for something new.
If you're out in Orlando now though, you have 5 days to get as many rides in as possible…good luck!