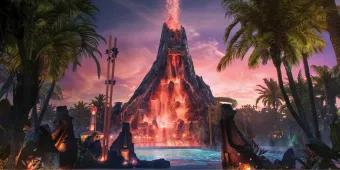 Coming soon!
The opening date for Universal's new water theme park has just been announced…
Universal first announced plans to open a new exciting park back in May 2015, and after a long wait, the opening date has finally been revealed. The revolutionary water theme park Volcano Bay, will officially welcome guests from 25th May 2017! That means that in just a few short months, visitors to the Universal Orlando Resort will be able to experience the thrills of a brand new park.
The 28-acre tropical oasis will offer both luxurious relaxation experiences and action-packed adventures. Choose to relax in a premium cabana, laze the day away by the pool or brave the thrilling drop slides. The main attraction- the 200-foot-tall Krakatau Aqua Coaster, will be a first-of-its-kind aqua coaster in Florida, and is a must-try. Get ready to board specially designed canoes, before venturing deep inside the dark volcano. You'll be propelled upwards then suddenly plummet back down again thanks to state-of-the-art linear induction motor technology. Expect twists, turns and plenty of surprises, and be prepared to launch through a sparkling waterfall.
Inspired by the Pacific Isles, you'll instantly feel as though you've been transported to paradise. Each area of the park is themed, featuring Polynesian influences and amazing attractions. What's even better, is that you won't have to wait in long lines to try them out! Universal will be introducing the TapuTapu wearable which will allow you to virtually wait in line whilst exploring the rest of the incredible park. You'll be alerted when it's your turn, with enough time to get back to the ride and enjoy the fun. The TapuTapu wearable will also feature "tap to play" experiences that allow you to trigger special effects throughout the park with one simple tap. You'll be able to shoot water cannons at guests on the Kopiko Wai Winding River, control bursts of water spurting from whales in Tot Tiki Reef and illuminate secret images in the Volcano's hidden caves.
Check out the video below for a sneak peek of what's in store...
Tickets for Volcano Bay are now on sale!
If you want to be one of the first to experience this fantastic park, click here to view our great value tickets.
For more blog pots like this try…