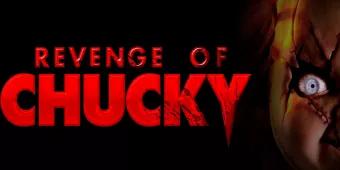 Plus, Killer Klowns!
Universal have revealed the final scare zones for Halloween Horror Nights 2018…
Preparations are well underway for Halloween Horror Nights 2018 and over the last few months Universal have been teasing us with the details. While there are still more haunted houses to be revealed, Universal have just announced the final two scare zones, and they sound absolutely terrifying!
The first scare zone will see the return of disturbing doll Chucky. The evil serial killer will be wreaking havoc on the streets of Universal Studios Florida, looking for guests to torment. The scare zone will be set up to look like a toy fair, but be warned, this is no ordinary fair!
At this festival of toys, Chucky has "twisted these playthings into new nightmares". He rules the entire scare zone and the rest of the toys are just his minions. He will be instructing them to cause mayhem at every opportunity. Of course, Chucky will also be dishing out some of his own revenge too. This is definitely not a place we'd want to be alone!
That's not all though, the second scare zone will be inspired by the famous sci-fi horror movie- Killer Klowns from Outer Space. As you approach this scare zone, you'll notice the sweet smell of cotton candy floating in the air. Don't be fooled though… this is anything but sweet. The candy is actually spun from human victims cocooned inside giant pods of cotton candy! If you don't want to end up as a tasty cotton candy snack yourself, you'll have to try and escape from these Killer Klowns.
These two scare zones will be joining an already horrifying line-up that includes Universal originals The Harvest, Twisted Tradition and Vamp '85. Halloween Horror Nights 2018 will also have more haunted houses than ever before. There will be 10 haunted houses in total, with this year's stories bringing to life classic 1980's horror movies. Slaughter Sinema and Dead Exposure: Patient Zero are two Universal originals, while popular horror movie Trick 'r Treat and hit Netflix series Stranger Things will also be joining the line-up.
Want to be part of the action? Click here, to view our Halloween Horror Nights tickets.
For more blog posts like this try…
Find out all the latest news from Orlando in our BLOG