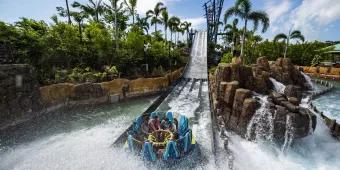 New Reservation Process & Safety Guidelines; Same Fun!
Whilst the re-opening of the SeaWorld Parks in Florida is great news for all customers visiting this year, the phased re-opening does come with some new processes to help manage park capacity in line with social distancing guidelines and ensure a fun and safe visit for all. Here we share some of the most important updates and answers to some of your most likely questions.
| | |
| --- | --- |
| SeaWorld Park | Status |
| SeaWorld Orlando | Now Open Daily |
| Aquatica | Now Open Daily |
| Busch Gardens | Now Open Daily |
| Discovery Cove | Now Open; see price calendar for live availability |
Top Things You Should Know As You Prepare to Visit:
Park capacity will be limited to allow for social distancing; SeaWorld, Aquatica and Busch Gardens will require advance online reservations in addition to an admission ticket.
Temperature checks will be required upon arrival; Guests with a temperature of 100.4 degrees or greater will not be admitted
Everyone over the age of 2 years is required to wear a face mask during their park visit. At Aquatica, face coverings will be prohibited in the water and on attractions
Physical distancing will be promoted throughout the parks by ground markings and signage
Contactless payments will be encouraged and plexiglass will be installed in high-traffic areas.
Queue lines for all rides will have markings for physical distancing and modified seating will be implemented to maintain physical distancing. 
Certain animal interactions will be modified and only tours allowing for physical distancing will operate. Some tours and interactions will be restricted to one party at a time
Certain components of parades and meet-and-greets, such as those involving guest interactions, character interactions and photo opportunities will be modified or removed
Reserve Your Day at a SeaWorld Orlando, Aquatica or Busch Gardens
In order to manage guest numbers, SeaWorld is introducing a new reservation system which all guests MUST complete before being allowed to enter SeaWorld Orlando, Aquatica or Busch Gardens. Without a theme park reservation, you will NOT be able to gain access to the SeaWorld Parks, even with a valid ticket.
To reserve days at the SeaWorld parks you will need to visit the websites below and have your ticket barcode to hand. Places are subject to availability so we recommend making your theme park reservations as soon as you receive your tickets:
SeaWorld Orlando, Aquatica or Busch Gardens Reservation System Frequently Asked Questions
How does the reservation process work?
Each park has implemented a reservation system requiring guests and pass members to secure a specific day for their visit in advance. All guests with existing tickets or a Discovery Cove confirmation will be able to make a reservation by:
Visiting the park reservation pages and clicking on the "reserve your day" button
Identify yourself as an existing ticket holder 
Select the date(s) you would like to visit
You will need your ticket barcode number and email address to confirm your reservation 
Guests purchasing premium experiences (dining, animal interactions) will also need a reservation for the day of their visit. Please visit the park website to reserve a date for your visit by entering the ticket or pass number.
The system is not letting me make reservations or finalise my reservation. What can I do?
If you are unable to make a reservation on your first attempt, please empty your cart by clicking remove on each item (your cart must be empty to proceed) and try again.
Does each person have to reserve individually or can my entire party reserve at the same time?
Everyone aged 3 years and above in your party needs a reservation. Children under 3 do not require a reservation or ticket for entry.
I currently have a valid multi-day ticket, do I need to make a reservation for each day I plan to visit?
Yes, reservations will need to be made for each day and park a guest plans to visit. This can be done on that individual park's website using the barcode on your multi-day ticket.
What happens if I show up at a SeaWorld Park without a reservation?
We strongly discourage guests from visiting the park unless they have a reservation. Guests without reservations will only be permitted to enter if capacity is available and admission is not guaranteed.
Can reservations be transferred from one guest to another?
No. Reservations can be cancelled or rebooked at least 24 hours in advanced of the date of the reservation, but they can not be transferred to other guests not included on the original reservation.
What happens if I don't show up for my reservation?
If you are unable to use your reservation please cancel as early as possible by calling 407-545-5550. This allows SeaWorld to make space available to other guests. It will also ensure that you can reserve other dates or cancel your ticket. 
Can I cancel a reservation?
Yes. Guests may change the date of their reservation up to 24 hours in advance by calling 407-545-5550.
I already have an experience booked (dining, animal interactions). Do I still need a reservation?
Yes, all guests need a reservation for entry to the park.
I have a confirmed Discovery Cove reservation – how can I use my admission to Aquatica and SeaWorld? 
Guests can make a reservation online at the park of their choice using the barcode on their Discovery Cove confirmation which will be uploaded to your customer account once your balance is paid in full.
The date are want is showing as not available. Will additional spaces be added?
Inventory will be closely monitored and adjusted based on demand and available capacity. Check back frequently as inventory will be adjusted on a daily basis.
I have a multi-park ticket, can I visit two parks on the same day?
In order to allow as many guests as possible to experience the park, SeaWorld Parks are currently not allowing guests to reserve a visit to two parks on the same day.
My ticket is showing up as not found/expired when I register, what do I do?
Please contact our customer service team and we will fix the issue with SeaWorld on your behalf.
What do I need to bring with me to access the parks?
Guests visiting will need to bring their original ticket, their reservation confirmation and their photo ID for entry.
How far in advance can I make a reservation?
SeaWorld Parks is currently allowing guests to make reservations through to the end of 2021.