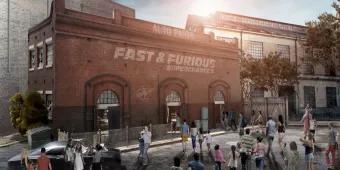 Opening 2018...
Immerse yourself in the seedy underworld of the Fast and Furious franchise on Universal's all-new Fast and Furious – Supercharged ride.
With brand new supercharged cars, characters, stories and virtual line technology, the new Fast and Furious Ride is already one of the most anticipated rides of 2018. And, with the release of brand new videos on how the ride is going to look, it could even be the ride we're most looking forward to testing out next year!
The whole 'family' is coming along for the ride, with heroes Dom (Vin Diesel), Letty (Michelle Rodriguez) and more of your favourite Fast & Furious characters appearing in the brand new ride storyline. Of course, being Fast & Furious, it's not all good guys. Fans of the series will recognise Owen Shaw and his criminal cartel who rock up just at the wrong moment to cause trouble.
15 authentic supercharged cars have been created for the attraction with the help of Dennis McCarthy, the man behind the wheels of the insane cars featured in the F&F films. This is the only version of this ride where you'll find these unique cars.
The ride kicks off inside the brand-new operation HQ where you're invited to a race after-party that, of course, you can't say no to! On your way to the party on supercharged customised party busses, Dom calls with an urgent message – Owen Shaw and his cartel are on your tail! It wouldn't be a F&F ride without a high speed chase now would it? Will you make it out of their evil clutches and into safety?
This is the second attraction at Universal Studios which will feature virtual line technology (the first being Jimmy Fallon's Race Through New York). Guests can book a time to ride the attraction via the Universal Studios app on the day they're visiting. While you wait, you're free to check out the other attractions at the park!
Keep checking back for an opening date and further information on this brand-new attraction. To buy tickets to visit Universal Orlando Resort in 2018, click here. 
Liked this post? You may also like...