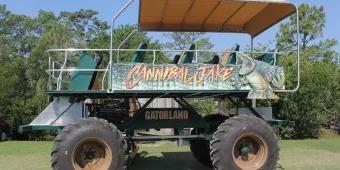 By ATD's Florida Experts, Susan and Simon Veness
Meet Cannibal Jake, Swamp Ghost and Bonecrusher. They're big, they're bad, and they're tearing up a broad swathe through Gatorland's 110 acres. Do you have what it takes to tangle with these angry beasts?
Read the blog or scroll down for the video!
Of course you do. Because Cannibal Jake, Swamp Ghost and Bonecrusher are the newest additions to Gatorland's line-up and the stars of its Stompin' Gator Off-Road Adventure. A $2.5million expansion of the former road-side curiosity, once called Snake Village before being re-named Gatorland in 1954, has finally culminated in the opening of the Stompin' Gator, an off-road tour with a terrifying storyline (and by "terrifying" we mean "hilarious").
We attended the media preview and ribbon cutting this week, and we knew we were in for something special when even the doughnuts were themed to the story's gruesome gators.
Mark McHugh, Gatorland's President, CEO and resident funny-man, is known for his showmanship, and he never disappoints. Not only did he keep even the jaded media laughing, he turned the pre-opening speeches and ribbon cutting into a warm-up act for what was to come.
Poor Swampy Sal sat off to one side under the watchful eye of security, dejected and almost, but not quite, defeated, which was funny on its own, but even funnier when we saw him again in the pre-show safety video before the main event.
So what can you expect from this much-anticipated main event? Head into the brand new Gator Joe's Adventure Outpost (named, by the way, for Ernest "Gator Joe" Brown, a Gatorland employee for 60 years who could literally call the gators right out of the water), pay your $10 per person (minimum height, 36 inches), and show up when your ride time is called.
Then, climb aboard a 12-foot high jeep—sometimes known as a "swamp buggy" or monster vehicle—and head into the scrubby wilderness of Gatorland's back acres where evil New York property developer, the CEO and "crusher of family dreams" Russell Mudds has opened Gator Gardens, A "really, really totally realistic Florida experience." Problem is, Mudds stole the family-owned business from Swampy Sal and turned it into a monstrosity of dishonesty and deception regarding Florida's flora and fauna. And the employees are madder than a wet hen, so you know it's not going to go well.  
Your driver had a rough night trying to forget the horror of their career path and isn't in the mood to deal with you, or to listen to one more round of Gator Gardens' cheesy theme song. Your guide ain't got no book-learnin' and can't read too good. And your swamp buggy veers right when it shoulda oughta gone straight. You, my friend, are going off-roading with the good-ole-boy equivalent of two of the Three Stooges!
We don't usually condone hijacking tourists, but in this case we'll make an exception, because what happens over the next 15 minutes or so is funny as a pig on ice. It's bumpy (like, REALLY bumpy!), it's bumpy, and it's…well…bumpy, but that's half the fun. There are seat belts for a reason, and you're going to want to use them. You're also going to want to have your camera ready, because it's pretty clear Russell Mudds didn't plan on having you see what's behind the scenes.
Along the way, your guide (who isn't a shining star in the smarts department) will introduce you to words like "cattywampus," force one of the passengers to become an 'accomplice in crime,' and find out which among you is fluent in speaking Redneck.
Are there gators in that-there wilderness? Yes, of course there are gators. And some of them are even alive. How many you see will depend on how warm (or otherwise) it is, but you won't come away disappointed. How close do you get? Let's just say those swamp buggies are super high-up for a very good reason.
Your ramble through the bramble (did we mention it would be bumpy?) ends with the off-roading version of a roller coaster ride, but don't worry. You'll be laughing so hard you won't notice the inversions.* (*That was just a little white lie. There are no inversions. There may just be a moment or two when you think there might be.) You WILL notice the gift shop—and its fantastic sister gift shop at the front of the park—which is well worth a good browse.
Purchase your tickets to Gatorland in advance to avoid wasting time that could be spent in the company of Florida's most famous (infamous?) reptile. Then, once you're in the park, head to Gator Joe's Adventure Outpost to purchase tickets for the Stompin' Gator Off-Road Adventure. The new building is also the meeting point for the park's Screamin' Gator Zip Line, among the absolute best zip experiences in Florida.
Gator Joe's is also where you can sign up for speciality tours, such as the Trainer For A Day programme, the Gator Night Shine, and the Adventure Hour tour, which allows guests to enter the Breeding Marsh area and have that coveted photograph of their wicked-brave souls taken in front of a mass of menacing gators. Worried? You should be (Okay, not really. It's perfectly safe, and not one guest has become a snack in all the time this super-exciting tour has been running).
If you're a thrill-seeker, plan your day around Stompin' Gator and Screamin' Gator, aiming for mid-day if you visit during the winter months or the earliest possible ride and tour if you're here in the height of summer. Guests with disabilities aren't excluded, either. The wheelchair-accessible Gator Gauntlet zipline uses a special chair and harness system, which riders can transfer to for a breathtaking soar over Gatorland's Breeding Marsh (reservations are required).
The humble Snake Village went on to be one of Orlando's most beloved attractions, but the evolution of the park is fascinating and the off-road adventure is one more piece in its compelling story. Be sure to ask your Stompin' Gator driver about the names Bone Crusher, Swamp Ghost and Cannibal Jack during your tour. They each have a fascinating place in Gatorland's history!
Check out our video of the day here:
Join us on the Attraction Tickets Direct discussion forums and tell us about YOUR Gatorland experiences!
Liked this post? You may also like...