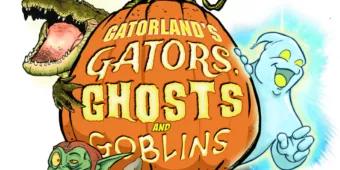 Enjoy Halloween at one of the best attractions in Florida!
Have snapping good time this Halloween, at Gatorland's Gators, Ghosts and Goblins special event.
New for 2019, Gatorland presents 'Gators, Ghosts and Goblins', a unique Halloween event that offers tons of fun for every member of the family. 
This is an all-ages daytime Halloween event, which is taking place during the last two weekends of October (19, 20, 26, 27) and Halloween (31), from 10am - 5pm. 
Stroll through the spooky area like the 'Graveyard of the Darned', or have a 'terrifying' encounter with Skunk Ape 'the Florida Bigfoot' at the Cryptozoo. Then, grab your Lederhosen for Frank & Stein's Ooky Kooky Octoberfest, which features live music from an undead polka band, as well as German beer and food for purchase. 
You won't want to miss the 'Monster Movie Madness Show', starring Bubba Cooter and members of the audience too!
There's also a chance to meet all your favourite Gatorland animals, experience a range of fun shows, and sample a variety of specialty vendors, games, giveaways and more. 
The best part? All this fun and excitement is included with your regular park admission, which you can purchase from us here. 
Gatorland is a fantastic additional activity to add to your Florida holiday, and a visit to the attraction while this weekend event is running makes this experience even more unique.
Kids are welcome to wear family-friendly Hallloween costumes too, so you can be sure they'll have a wonderfully spooky time. 

Ready to experience Gatorland for yourself? Click here to browse our Gatorland tickets now. 

Read next…