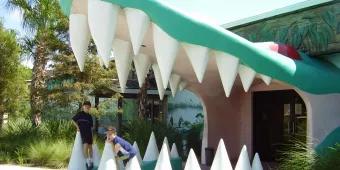 By ATD's Florida Experts, Susan and Simon Veness
World War II ended four years' prior, the first 45rpm vinyl records and the first Polaroid cameras hit store shelves, Twiggy was born, Clement Attlee was the United Kingdom's Prime Minister, the average yearly wage in the UK was £317 and colour television was invented. It was also the year Gatorland became a Florida roadside attraction.
Gatorland may be filled with toothy grins that could chomp a log in half, but its famous reptile residents dined on raw chicken and steak in celebration of the park's 70th year this past week, and a giant cake (okay, fake cake, but even fake cake is good) kicked off Gatorpalooza to mark the momentous occasion.
True, Gatorland opened under the corporate-sounding name, Florida Wildlife Institute, and its real birthday is in December, but that sort of detail shouldn't stop a great story from being told on a sunny Spring day in the wilds of Orlando's Orange Blossom Trail. And it didn't.
But let's go back to the beginning and trace the timeline that led to today. When the park opened, its seriously homespun gift shop had a thatched roof, no walls, and a dirt floor covered in sawdust. Seminole Indians provided entertainment in the form of gator 'wrestling' and the park's success was expected to come from the upsurge of families travelling around Florida by car, a relatively new luxury as the US enjoyed a recovery from its recent wartime restrictions.
There was not much going on in Orlando at the time. Walt Disney World was still 22 years away and Universal Studios would take another 41 years to arrive, but Florida Wildlife Institute owner Owen Godwin had a good feeling about tourism in sleepy Kissimmee. To boost sluggish initial attendance, he re-branded the park in 1950, christening it Snake Village and Alligator Farm.
But the new name, along with a huge display of snakes guests had to walk past the moment they entered the park, didn't help. In fact, it hurt, especially with delicate sensibilities of woman at that time. Godwin had a major re-think, and with the purchase of a 1,080 pound crocodile he named Bonecrusher, he made much bigger and more relatable reptiles the star of his show. Just to turbo-charge the attention-grabbing factor, he added the incentive of handing over $1,000 to any man who could prove Bonecrusher wasn't the largest croc in captivity. He then purchased a 12-foot alligator, named him Cannibal Jake, and charged ten cents per person to view him. Success was on the horizon.
In 1954 Godwin changed the park's name again, this time settling on Gatorland. Over the next 30 years the park would add exhibits and shows, including a failed raccoon exhibit (raccoons are primarily active at night, tourists are primarily active during the day!), a kid-friendly train ride, the Swamp Walk, a version of the still-famous Gator Jumparoo and, in 1962, the park's iconic gator-mouth entrance.
Judy, a rescued Florida Black Bear, arrived at the park in 1989, starting a trend of rescuing exotic animals from unsuitable situations. In 2012, Gatorland hosted Pet Amnesty Day in its car park, allowing exotic 'pet' owners to surrender their animals into safe and appropriate care, and over the years they've taken in Neiko and Lucy, two Florida Panthers born at a rescue and rehab facility; Osceola and Abiaka, a pair of Florida Bobcats; and dozens of birds, snakes, gators, raccoons and even white-tailed deer.
Throughout the 1990s, the Gator Wrestling Stadium, Alligator Breeding Marsh, Snakes of Florida exhibit, Very Merry Aviary, Jungle Crocs of the World, and kid-favourite Alligator Alley, with its Lily's Pad splash playground, came on board, and attendance soared.
Orlando watched in horror as a tragic fire broke out at the park's front entry in 2006, turning the gift shop, offices, and gator mouth to smoldering ash, but Gatorland was made of sterner stuff and their penchant for soaring would soon reach new heights.
The park rebuilt its lost structures, added a whole new Gator Gully Splash Park, the White Gator Swamp exhibit featuring four leucistic gators (white with blue eyes, as opposed to albino gators' white bodies with pink eyes) and the fabulous Screamin' Gator Zipline Adventure, with five ziplines (one over the famous Alligator Breeding Marsh!) and a 150-ft suspension bridge. In 2016, Gator Gauntlet wheelchair-accessible zipline opened to guests with disabilities and mobility issues, a fitting reminder that where there is a will there is a way!
Gator Joe's Adventure Outpost and the hilarious Stompin' Gator Off-Road Adventure are the latest additions to the park (with two of Stompin' Gator's three monster buggies named for our old friends Bonecrusher and Cannibal Jake, and one in honour of the newer additions to the park, the leucistic gators, with a buggy named Swamp Ghost). It's a full day's worth of fun, but there's room for more.  
Sure, Gatorland has attractions, shows and rides, we hear you say, but what about characters? Themed parks are supposed to have characters, right? Gatorland does have them, but like most things here, they're a bit out of the ordinary. Meet Bubba and Cooter, two of the most hapless, hilarious characters in Orlando. Goofy's got nothing on these two when it comes to gettin' up to mischief. How will you know who Bubba and Cooter are? Trust us, if they're hanging out together, you'll know!
Gatorland has special events, too, including those around major holidays such as Halloween and Christmas, and it isn't at all unusual to find their animal ambassadors and handlers at various events around Florida and beyond.
The most thrilling event, though, is arguably the Gator Night Shine, an evening add-on that showcases the park in (literally!) a whole new light. With your torch and your gator food in hand, it's out to the Breeding Marsh after sunset, where thousands of red dots shine like beacons in the torchlight. Some sort of mutant, firefly? Nope! It's the swamp's gators, whose eyes glow red when light hits them in the dark! Sign up for this after-hours tour, offered each day except Monday and Wednesday. It's spooky and unforgettable!
We're big fans of the family-friendly way Gatorland has evolved over the past 70 years, and we'll eagerly watch for its continued success over the next 70. If you haven't been, or if you haven't been in a year or two, it's high time you add it to your list of Orlando must-do attractions!
Check out Attraction Tickets Direct's full line of Gatorland tickets, and join us on the ATD forums for more talk about Orlando and its fabulous attractions!
Liked this post? You may also like...