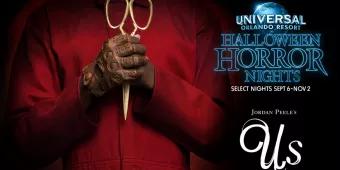 Get ready to become your own worst nightmare...
Jordan Peele's hit blockbuster movie 'Us' is being reimagined as a new house for Halloween Horror Nights 2019, and it looks utterly terrifying.
Universal Orlando Resort has announced that the critically acclaimed film "Us" is being brought to life in a brand new house for their 29th Halloween Horror Nights, which kicks off later this year. 
If you've seen the film, you know this new house is going to be nothing short of weird, creepy, and absolutely terrifying. 
But what will the house entail? Well, you will walk through the Wilson family beach house (the setting for much of the film) in Santa Cruz Pier, where you might spot a familiar character outside of the Fun House. 
You'll also venture through unnerving tunnels that stretch for miles deep below America, and come face-to-face with "The Tethered" - a group of horrifying doppelgangers of every living man, woman, and child in the country. You'll soon discover that your own worst enemy...is you.
Follow in the footsteps of Adelaide Wilson as she epxeriences a terrifying and traumatic encounter with her own Tethered double, Red. Watch her face off with her menacing mirror image in a deadly dance with a fatal ending. 
As you continue to venture further into the haunted house, you will be transported to modern-day, and witness "The Tethered" rise-up from their underground labyrinth, ready to take on their privileged upper world counterparts. Be warned - they are determined to enact their gruesome plan or murder and revenge. 
Get prepared to run for your life. There's no escaping yourself...is there?

This new house joins a host of other exciting and terrifying attractions that have already been announced for Halloween Horror Nights 2019, including Stranger Things, Ghostbusters, and Yeti-themed houses. The annual event returns to Universal Studios Florida on selected nights from September 6th - November 2nd. There will be 10 haunted houses, 5 scare zones, live entertainment, and much, much more. 

Ready to get your scare on? Book your tickets to Universal Orlando Resort's Halloween Horror Nights here. 

Like this post? You may also like…