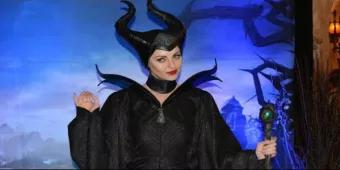 Disney guests enjoy a meet and greet with Maleficent!
This weekend Walt Disney World Florida and Disneyland California invited guests to twenty four hour Disney party 'Rock Your Disney Side'! In attendance was none other than Maleficent herself...
In celebration of Memorial Day Weekend, Walt Disney World Florida and Disneyland California hosted a massive twenty four hour party, inviting Disney guests to come and 'rock their Disney side' and enjoy endless hours of magic, fairytale and fun at the parks. This in itself is pretty spectacular. But, if like us at AttractionTickets.com, you have been counting down the days till the new Walt Disney Picture Maleficent arrives on the big screen, then news of the Rock Your Disney Side party just gets better and better!
In attendance of this celebratory Disney event was the 'Queen of Disney Villains', Maleficent. She wasn't necessarily partying amidst the masses - that wouldn't have done much for her reputation, but she did invite a few special Disney guests to be in her graceful and gruellish presence for a character meet and greet.
This particular Maleficent that emerged at the Disney parks this weekend, you will notice, doesn't look quite like the Maleficent we have seen in the parks during the Halloween season. This Maleficent is the Maleficent that Angelina Jolie plays in the 2014 Walt Disney Picture of the same name and we can't help but say, we think this is a much better take on Maleficent for the Disney parks. Unfortunately, this particular Maleficent won't be replacing the far scarier looking green skinned Maleficent inspired by the 1959 Walt Disney Classic Sleeping Beauty.
Not only is the modern Maleficent slightly more graceful in appearance, but she's generous too, giving her special guests plastic horn hats, a Maleficent autograph AND a free ticket to see the movie. Indeed we are jealous. 
Excited to see Disney's take on their very own Disney villain, we have been following the lead up to this highly anticipated movie and sharing with you the latest movie posters, footage and trailers on Attraction Tickets Direct's blog. So, we couldn't resist sharing possibly the last trailer we'll see and share before we're in the cinema enjoying this movie for ourselves. It's 'Oh My Disney's' amazing Maleficent Sleeping Beauty trailer movie mash up - its brilliance will send a chill down your spine! 
For all of your theme park tickets, Disney fun and Orlando advice, stay connected with us at Attraction Tickets Direct!
Maleficent's international release begins this week - arriving in UK cinemas tomorrow!