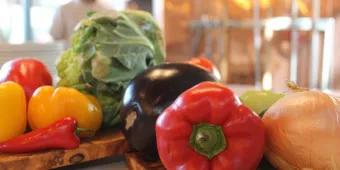 By ATD's Florida Experts, Susan and Simon Veness
It's time for Magical Dining Month in Orlando! Our Florida experts give us the low-down on all the best restaurants to go to.
It's that time again! The time when normally-friendly Orlando becomes ultra-friendly Orlando, with smiling faces everywhere and motorists who aren't upset when you cut them off trying to reach the slip road. What sort of magic is this that could create such a transformation? It's Magical Dining month-plus!
Locals love it. Tourists who discover it love it. And a deserving charity who benefits from a percentage of the proceeds from this annual event, where some of Orlando's best restaurants offer 3-course meals at a fixed price, love it too. When you consider the fact you can enjoy a $60 meal at just $35, what's not to love? That's money in your pocket, or a nice bottle of wine to go with your meal. And for that we shout, 'Hurrah!'
We also phone up our friends, choose a date and make reservations, because, with over 120 restaurants to choose from, we want to experience as many as possible over the course of the event's 6 weeks (from August 23-September 30 this year).
Vegetarian, Vegan or Gluten-Free? Don't worry, you haven't been forgotten. Several restaurants offer excellent V, VG, and GF options on their Magical Dining menu.
This year we visited a new-comer to the Magical Dining Scene, The H Cuisine in Dr Phillips (just off Restaurant Row), which won the Orlando Sentinel's Foodie Awards Best Newcomer for 2018 for its superb Mediterranean, Greek and Turkish cuisine. But, as we always say when we try a new restaurant: "I'll be the judge of that!"

Simon had the Burrata starter, a meltingly smooth full-sized burrata with delicate tomato slices, pesto, and absolutely gorgeous red vine onion reduction; 6oz Lokum tenderloin steak with firik rice and smoked Brussel sprouts; with two-cheese, crustless San Sebastian Cheesecake with mango puree and fresh berries. He added a powerful Cucumber Basil Martini to enjoy with his starter.
Susan chose the Baby Artichoke starter with shemiji mushrooms in a white wine butter sauce; Josper Vegetable Stew with Smoked Yogurt; and Muhallebi Turkish milk custard with crumbles of Turkish cotton candy, pomegranate seeds and molasses tahini. She added the Rosemary Gin Fizz cocktail with her starter.
The H Cuisine definitely earned the accolade the Sentinel bestowed upon it, and then some. Every dish was absolutely delicious, with the surprise stand-out winner being the vegetable stew, especially with its creamy-tart, fresh-made and freshly smoked yogurt. And while no one in our dinner group actually begged for a second helping of the firik rice, it was only through the greatest restraint that they didn't. Put this newcomer on your holiday dining list. It's a terrific find!
Want more suggestions? Here are our favourites in Orlando's main tourist area.
Our Top 5 at Walt Disney World
- Wolfgang Puck Bar & Grill: Sample Wolfgang Puck's signature dishes. Not only is the food delicious, it's also artistry on a plate. Mains include roast chicken, salmon or short ribs.
-Jaleo: Spanish cuisine as imagined by James-Beard award winning chef, José Andrés. We like its sharing-style menu and bright, inviting bar. Jaleo's Magical Dining menu includes five courses (choose two starters, two tapas-style mains, and dessert).
-Morimoto Asia: Iron Chef Morimoto's famous pan-Asian cuisine shines on this menu. Try the Crispy Soft Shell Crab Boa, because where else are you going to get that?
-Terralina Crafted Italian: What can we say? We love great Italian! Not big on pasta? There's a Catch of the Day on the special menu, too.
-The Edison: Possibly the most approachable of the Disney Springs' menus, with comfort foods like Deviled Eggs, Meatloaf and the scrummiest Milk Shake you'll probably ever have.
Also participating at Disney Springs are Maria and Enzo's, Enzo's Hideaway Tunnel Bar & Restaurant, Wine Bar George, Paddlefish and STK, plus Todd English bluezoo (Dolphin resort), Ravello (Four Seasons resort), Il Mulino (Swan resort). You won't go wrong with any of them.
Our Top 5 at Universal Orlando and I-Drive
-BiCE at Universal's Portofino Bay Resort: A terrific choice for upscale Vegetarian or Gluten Free. Choose from pasta, salmon or chicken breast as a main, while all three starters are gluten free and two are vegetarian.
-A Land Remembered at Rosen Shingle Creek Resort: Prepare yourself for the best steak you've ever eaten (or opt for salmon or chicken). There's a lot of 'bang for your buck' here, as standard menu items tend toward the pricey.
-Calla Bella at Rosen Shingle Creek: Italian bistro style Calla Bella's mains are New York Strip Steak, Lobster Manicotti or Sicilian Shrimp Scampi, and their Tiramisu or Cannoli Cake are well worth the calories.
-The Oceanaire Seafood Room: As you'd expect, the Magical Dining menu is heavy on seafood, but also features a Surf and Turf of steak and lobster. Start with the creamy New England Clam Chowder. Heavenly!
-Fogo de Chao: This Brazilian steakhouse is normally all-you-care-to-eat, and that extends to their Magical Dining menu. Start with arguably the best (and most enormous!) salad bar in town, then move on to 10 different skewered meats, four side dishes and one selection from three desserts. Oof!!
Our Top 5 on Restaurant Row (Dr Phillips area)
-Seasons 52: Our go-to when we're fed up with the world and duck out of work for Happy Hour, it's even better value during Magical Dining, and an excellent choice for Vegetarian, Vegan and Gluten-Free. We love its health-conscious focus while still being supremely tasty. Their mini-indulgences make you feel good about having dessert.
-Urbain 40: This is our favourite for an elegant splash out evening, so we never miss it during Magical Dining.
-Slate:  Another V, VG, and GF-friendly choice that puts a delightful (and healthy) spin on American cuisine. Its cosy-elegant ambiance makes it a wonderful date night spot.
-Roy's Restaurant: And now, for something completely different. We like the Pacific Rim/Hawaiian twist Roy's puts on familiar foods, including the Hibachi Grilled Salmon, Blackened Mahi, Bacon-Wrapped Bone-In Pork Chop and yummy Macadamia Nut Bread Pudding. A nice change of pace.
-Ocean Prime: It sounds like a seafood place, and it is, but its special menu includes filet mignon, chicken and short ribs, too. Start with the Lobster Bisque, end with the Peanut Butter Pie (You're welcome!).
Other districts participating in Magical Dining include Winter Park, Downtown Orlando, and Surrounding Areas, including Celebration, Kissimmee, Winter Garden and even as far out as Mount Dora.
For the full list of 2019's participating restaurants, and their Magical Dining menus, click here: Visit Orlando Magical Dining
Ready to book your Orlando holiday? Browse all our Orlando ticket deals here.
Like this post? You may also like...