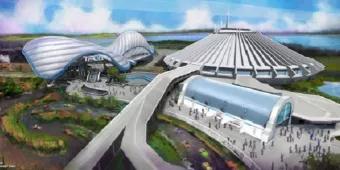 Adrenaline junkies will love this one...
One of Shanghai Disneyland's most popular attractions is coming to Orlando!
A brand-new roller coaster has been confirmed for Magic Kingdom, and it's already been proven to be a huge fan-favourite at the Shanghai Disneyland park. There's no news yet on how similar this new attraction will be to the original, but if it's anything like the video below, we can't wait to ride it!
In Shanghai, guests jump on their Lightcycles for an epic adventure on one of the fastest indoor roller coasters in Disney history. Adrenaline-inducing music, flashing lights and 3-D graphics all help to create what is one of the most exciting and popular rides at the Shanghai park.
Disney's Imagineers are aiming to have the attraction all ready for Walt Disney World's 50th anniversary which will take place in 2021, so although this is not something that is happening in the next couple of years, it is definitely something to keep an eye on for the future! Best of all, the new attraction will sit next to Space Mountain in a new area and will not be replacing any existing rides.
Watch this space for further announcements from Disney coming over the next few days…