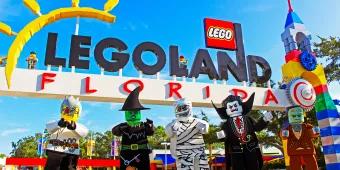 Get ready for family-friendly Halloween fun!
The best family Halloween event, Brick or Treat, is back at LEGOLAND Florida for another year. Join in on the all spook-tacular experiences, attractions, and a range of shows!
Heading to Florida in October, the year's most spooky month? Well, if you're traveling as a family, you won't want to miss LEGOLAND® Florida's Brick or Treat weekends. 
Coming to the park every weekend this October, LEGOLAND Florida is transforming into a Halloween spectacular, complete with loads of family-friendly, Halloween-themed fun. You and your little ones will witness fantastic shows, be able to take part in numerous event activities, and even see the nightly fireworks too. 
Shows
The Groovin' Graveyard (FUN TOWN 4D Theater) - Be prepared to groove, as a haunted group of musical spirits are awakened from their graveyard slumber and are looking for a ghoulish good time!

A Candy-Coated Curse (City Stage presented by Wells Fargo) - Curious trick-or-treaters must sing, dance and chant their way through solving a A Candy-Coated Curse in City Hall!

The Jammin' Jacks (Near the Big Shop) - Rock out with the spirits of Brick or Treat, as the LEGO® jack-o'-lantern trio comes to life to sing some of your favourite spooky tunes

Monster Bash Dance Party (Near the Great LEGO Race) - A festive dance party, with music, lights, bubbles and 'monsters' - a chance to get your BOO-gie on!

 



Event Activities
Bigsy Bricksy LEGO Spider Build (Across from LEGO Factory Experience) - Your kids will be able to create a creepy, crawly LEGO spider, which they can add to the tangled web on Fun Town 

LEGO Candy Corn Scavenger Hunt (LEGO Studio Store) - Find the hidden LEGO candy corns throughout MINILAND. Simply pick up a scavenger hunt form and submit it outside Studio Store, for your chance to win a LEGO prize pack

Scarecrow Super Brick Build (Across DUPLO Tot Spot) - Help the Master Model Builders build a giant LEGO Scarecrow!

LEGO Competition Build (MINILAND USA) - Consider yourself a LEGO expert? Build something spooky for your chance to win a LEGO prize pack 

Build a LEGO Mosaic (Near Beetle Bounce) - Help create a Halloween masterpiece!

 
Food
Of course, Halloween wouldn't be complete without the appropriately themed food and drink. And LEGOLAND Florida certainly don't disappoint, with their fang-tastic offerings.  
Candy Crypt Cannoli (Market Coffee Shop) - A delicious cannoli filled with Halloween candy and a sweet ricotta chocolate chip filling, dipped in chocolate. 

Mummy's Snack Mix (Market Coffee Shop/Pepper & Roni's/Panini/Kickin Chicken) - A sweet & salty treat made with a mix of popcorn and candy

Boo-Berry Dessert Pizza (Pizza & Pasta Buffet) - A seasonal dessert pizza topped with blueberry jam, Nutella and strawberries

Granny's Harvest Apple Fries a la mode (Granny's Apple Fries) - Enjoy the classic warm Granny Smith Apple Fries, served with Pumpkin Spice ice cream dusted with cinnamon & sugar, for a limited time only.

Pumpkin Pie Eclair (Market Coffee Shop) - A delicate pastry, glazed with rich fudge and stuffed with a sweet pumpkin pie cream. 

Spooky Kooky Churros (All carts) - A Halloween twist on the original churro, with orange, black and purple cinnamon and sugar

 
Character Experiences 
There's also a chance to meet your favourite LEGO Halloween characters, and get those treasured photos so you can remember this spooky night for years to come! 
Rock and Roll Frankenstein - Inside Halloween Headquarters near Market Coffee Shop 

LEGO Witch - Fun Town 4D Theater

LEGO Mad Scientist - Fun Town 4D Theater

LEGO Friends - Heartlake City

LEGO Scarecrow - Across from DUPLO Tot Spot

LEGO Lord Vampyre - LEGO Kingdoms

LEGO Spider Lady - LEGO Kingdoms

LEGO Mummy - Near The Lost Kingdom Adventure 

 
Brick or Treat Trail
Take part in the iconic Brick or Treat Trail, which starts near the Pirates' Cove South Stadium. All the pirates, witches, ghosts and goblins have all gathered for candy on the trail, where kids 12 and under can trick-or-treat for sweets along the festive path. Participants are allowed one visit per day, and LEGOLAND have very handily offered to swap the coins for allergy friendly sweet treats, should you have any concerns.

Nightly Fireworks
End your day of Halloween madness with a bang - literally! The Nightly Fireworks show takes place at 8pm during event evenings, near the Pirates' Cove South Stadium. Experience the tale of Captain Dreadbeard's adventure to defeat the Imperial Navy during a battle to save Pirates' Cove. Special fireworks viewing glasses will be distributed starting at 7pm. It's recommended to arrive early to get a good spot!


This is a Halloween event not to be missed, perfect for all the family and a fang-tastic way to spend and day and evening in one of Orlando's top theme parks.
The Brick or Treat weekend events are included with your LEGOLAND Florida daily admission ticket, which you can purchase from us here. 
 

Have you signed up to mailing list? Click here to receive all the latest news and special ticket offers via email.

Read next…