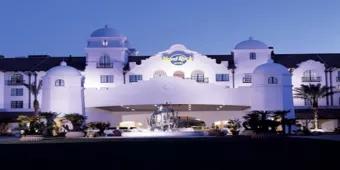 Enjoy an Easter brunch to set you up for or wind you down for a day at Universal Orlando!
Universal Resort Orlando's onsite hotels invites Easter holidaymakers for a Sunday brunch on Easter Sunday.
On Easter Sunday the chefs at Universal Resort Orlando hotels', Loews Royal Pacific, Loews Portofino Bay Hotel and Hard Rock Hotel will each be laying on a spread for those of you lucky enough to be in the vicinity to enjoy.
Each hotel's brunch will feature a different theme inspired by the hotel. Loews Portofino will offer a taste of La dolce vita, taking inspiration from the hotel's Italian Riviera theme. Loews Royal Pacific offers up a slice of paradise with hula dancers and music, whilst the Hard Rock Hotel serves up some typical American cuisine to compliment the hotel's Rock n Roll culture.
The Easter brunch begins at 11 am at each hotel and continues till 8pm at Loews Portofino and Royal Pacific, so you'll be able to enjoy your brunch before or after your day spent at Universal Orlando, making any one of these brunches the perfect accompaniment to any Universal ticket. The Hard Rock Hotel's brunch finishes at 4pm.