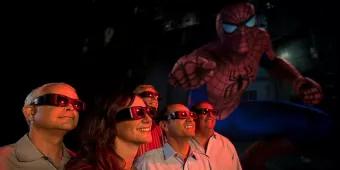 The Universal Creatives preview the enhanced Spider-Man attraction with special 'Spider Vision' glasses!
Developments to Universal Islands of Adventure's Amazing Adventures of Spider-Man are well on their way! It's not long now till you'll be able to slip on a pair of 'Spider Vision' glasses at Universal Orlando and experience the world with your very own Spidey sense!
Check out the Universal Creatives previewing the new and enhanced Amazing Adventures of Spiderman. The 3D simulator ride that has you protecting the streets of New York alongside Spidey is yet to open to the public. And no doubt the world awaits with baited breath for the enhancements of this already groundbreaking and highly acclaimed attraction. Those with
Universal tickets
headed to Universal Orlando as of March can expect to see Spiderman in a whole new light. With special 'Spider-Vision' glasses, created with dichroic filters, state of the art 3D projection systems and new 4K digital high definition animation, you'll be able to experience every minute detail and every colour of this visual spectacle, making the entire Amazing Adventures of Spiderman an even more surreal encounter with Spidey than ever.
Spider Man fans, watch this space, we'll have the official launch date over to you soon. Till then, don't hesitate to get those Universal Studios tickets!   
RR