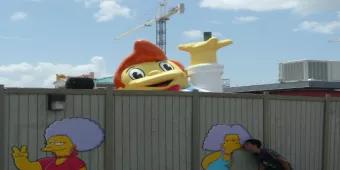 By Susan and Simon Veness
With all the new construction going on in the theme parks, a round-up of what's going up is in order. This week let's take a look at the excitement that's in store in Orlando in 2013-2014.
We are often asked, "What does 'Spring' 'Summer' 'Fall' or 'Winter' mean when it comes to attraction openings?" The seasonal designation gives the parks a little bit of wiggle room without having to commit to a specific date (anyone remember the problems with announcing a specific opening date – make that 'dates' – for Test Track at Epcot?). But 'Spring' generally means some time in May. 'Summer' usually means July/August, 'Fall' means October-ish and 'Winter' generally means "we want this thing to open before Christmas," so you can typically expect a mid-November to early December opening. With that in mind, let's have a look at what's on the way.
Universal Orlando:The undisputed winner when it comes to What's On the Way has to be Universal Studios. Fast Food Boulevard was the start, but the second half of Springfield is springing up quickly. As you enter Springfield from the Hollywood area the first thing you come across is a kid's water play section, themed with Police Chief Wiggum's car, which has hit a fire hydrant, with the inevitable watery results. Bumblebee Man's Taco Truck, a window-service taco joint, is just to the right of the play area. 
Next is Lard Lad Donuts, serving those gigantic pink-frosted donuts that could feed a family of four. And because "you can't get enough of that wonderful Duff", Duff Brewery is just beyond, and we're certain it's going to be a hit. With its waterside location and outdoor seating available, it's the perfect spot for some time off your feet with a cold beverage, specifically, Duff, Duff Lite, or Duff Dry.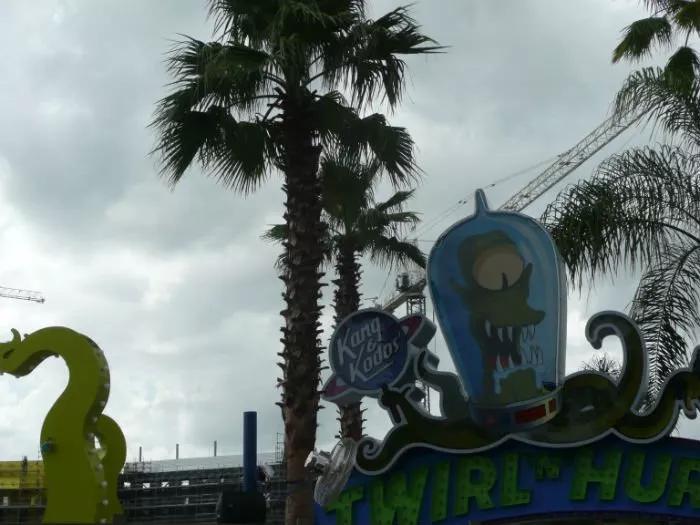 Kang and Kodos' Twirl and Hurl, a Dumbo-style fairground attraction, is between Duff Brewery and the existing fairground games which opened in front of The Simpsons Ride early this year. The area is surprisingly busy, and this kiddie ride will add a further dynamic element to the already manic atmosphere. The area opened on the 2nd August.
But the biggest news is across the lagoon. London/Diagon Alley, the second half of the wildly popular Wizarding World of Harry Potter, isn't due to open until July 2014, but there is certainly a lot of buzz in the park as guests walk past the construction and view it from the Springfield area. These buildings are truly massive and utterly impressive. Even though they're still in the steel framework stage, you can begin to make out some of the individual elements.
The Islands of Adventure portion of the expansion is beginning to look like a train station. The metal roof is currently white, giving some idea of what it will look like in its finished state, covered in snow. With its proximity to its neighbouring land, the wintery effect butting up against the warm sand tones of Lost Continent is somewhat startling. Still, that's what trees and other view-blockers are for, right?
And just to be sure they have every base covered when it comes to building new things, enormous cranes can be seen just off of I-4, where Cabana Bay Beach Resort is going up. This project is moving along at record speed, and will add 1800 budget-friendly rooms to Universal's hotel inventory, and will include the Early Entry to Wizarding World perk (if not the Universal Express bonus). It is due to open in late March 2014, and we believe it will!
Busch Gardens Tampa: The support beams for Falcon's Fury (or, as our tram driver called it, "Falcon's Force"! Guess he didn't have his morning coffee yet) are going up in the Timbuktu area, just across from Desert Grill and to the right of the Scorpion roller coaster. Falcon's Fury will be a 300 foot drop-tower attraction, which, for those of you who like to keep track, is 100 feet taller than mega-coaster SheiKra. We'll keep you updated as the construction progresses, of course, but this is certainly something thrill seekers won't want to miss. It is due to open in Spring 2014.
Walt Disney World: It's a bit quiet at Disney right now, but Princess Fairytale Hall is still in the works. It can't be seen yet, with all the work going on behind hoardings, and its due date has been moved from late 2012 to late 2013. The Seven Dwarves Mine Train – "Spring 2014" – is the other major building site, but the overall layout of this novel inside-outside is clear to see.
The car park at Downtown Disney is officially in full chaos mode, with two sections of the main lot closed in preparation for the change-over to the Disney Springs shopping and dining district. Two new multi-storey car parks will be going up, but if you're visiting any time this year allow plenty of time to find a parking space. And remember, it's ok to stalk visitors returning to their car so you can nab their space; just be sure to be safe about it!
Restaurant Recommendation: We're drooling just thinking about it. Yellow Dog Eats is a bit off the beaten path, but worth making the drive out to Windermere to sample some of the yummiest barbeque in town, or try one of their insanely imaginative sandwiches. Sometimes we think the chef looks at what's in the 'fridge and throws it all together, but it works. Oh yes…it works. Vegetarian or vegan? You'll find plenty here to make you shout, "Good dawg!" 
Favourite Quote of the Week:This one makes you want to hug every Guest Service employee you see. Standing in the Guest Services queue at Universal Studios, we overheard the most patient woman in the world saying, "Disney has four parks, all of them on Walt Disney World property, which is about 15 miles further along Interstate 4. I can't sell you tickets for Disney, since this is Universal Orlando Resort, but you can get tickets when you reach their parks." She then gave the guest full directions on how to drive to Lake Buena Vista, and when the guest asked if his family could use the Amtrak train to get there, she simply smiled in the kindest way and said, "Sorry, no." Remember how patient these folks are next time you visit Orlando, and maybe give them a smile in return.