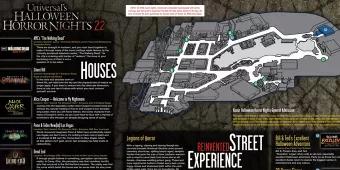 Map Your Fears at Universal's HHN 22!
Universal Orlando has revealed the map that Halloween Horror Nighters will use to navigate their way around horror that awaits them at Universal Studios.
Universal's Halloween Horror Nights is less than two weeks away and we have no doubt that those of you with your Halloween Horror Nights tickets are counting down the days in anticipation, whilst those seven horrific haunted houses await you.
This map will be the very map that you will use to find your way around the deadly park. However, you might want to remember, as Universal stated on their HHN 22 trailer, that once you're inside there really is nowhere to hide – this map is not meant to lead you to your safety! 
Baring that in mind, if you are Orlando bound with your Halloween
Horror Nights tickets
, we advise you to study this map and pick your fears wisely.