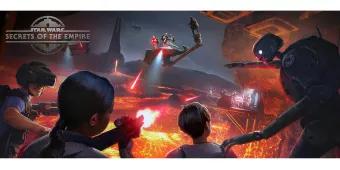 Are you ready for a brand new virtual reality?
Star Wars is set to be one of the biggest attractions at the Disney theme parks in the coming years, but if you can't wait 'til 2019 for the arrival of the dedicated Star Wars land and hotel, there's a little something coming to Downtown Disney and Disney Springs that we think you might like!
Star Wars: Secrets of the Empire will transport guests to a galaxy far, far away using environmental effects to bring the real world and the out-of-this world Star Wars reality together. The attraction is a new project co-ordinated between Lucasfilm's Immersive Entertainment division, ILMxLAB, and VR entertainment centre developer The VOID.
"Star Wars: Secrets of the Empire will plunge guests directly into the iconic Star Wars galaxy. They will move freely throughout the untethered, social, and multi-sensory Star Wars: Secrets of the Empire experience in a way that allows them to interact and engage with friends, family and Star Wars characters," Disney said in the statement.
The new attraction will open at Downtown Disney at Disneyland California and at Disney Springs in Walt Disney World Florida. The only information Disney have given about an opening time is 'this holiday season' which is a little vague but we expect this means around Christmas! They are also likely to release information about pricing in the run up, so watch this space for more information.
Planning a trip to Walt Disney World Resort? Click here to buy tickets, or click here for Disneyland California tickets and get planning your holiday of a lifetime!
Liked this post? You may also like…