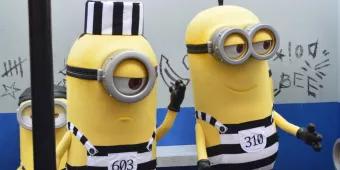 Scroll down to find out about an epic event this weekend only!
The brand-new Minion film, Despicable Me 3, is due for release on Friday (30th June) this week, so it seems like the perfect time to tell you about the all-new Minion meet and greet opportunities at Universal Orlando Resort.
The Universal Studios Florida Park has always been the place to go to get your Minion fix, and with a brand-new meet and greet station set up outside the Despicable Me Minion Mayhem ride, you'll definitely want to check out this area of the park first if you're visiting this summer. Meet the Minions in their stripes at the Jail Minion Tattoo Parlor, where you can snap a photo with the characters from the new film and even get your very own temporary Minion tattoo.
Meet and Greet times are below (subject to change).
9:20 AM
10:20 AM
11:20 AM
1:20 PM
2:20 PM
3:20 PM
Over at the KidZone, you can meet Gru, his twin brother Dru, Mel (One of the Minions if you're not familiar with all their names!) and the new Tourist Minions. Here, you can take a photo with these famous friends and dance the afternoon away to a groovy soundtrack from the new Minions movie.
Here's a snap of the Tourist Minions on their most recent trip – to Universal's Volcano Bay water theme park!
Meet and greet times are below (subject to change).
11:50 AM
12:50 PM
1:50 PM
2:50 PM
4:25 PM
5:40 PM
Just in case you're visiting this weekend, don't miss the Despicable Me 3 weekend takeover at Universal's CityWalk, which is taking place from June 30 – July 2. The Minions will be taking over the lagoon stage and painting the town yellow as they lead the crowd in a crazy dance party! Let's go bananas!
Get your tickets for Universal Orlando Resort right now and you'll get 3 amazing parks for the price of 2! Click here to buy tickets.
Liked this post? You may also like…