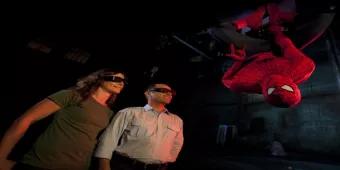 Finally the day is upon us when an enhanced Spider-Man attraction will sweep the world up in his web!
Today, Thursday 8th March 2012, The Amazing Adventures of Spider-Man will launch to the public. Yesterday the attraction was launched to the media...they're not revealing much, but enough to get us all excited!
Yesterday the new and enhanced Amazing Adventures of Spider-Man attraction was showcased to the media. It has been revealed that the attention to detail is miraculous, exposing details that we were unable to see before. Those at the park today with their Universal tickets will be able to witness the muscles beneath Spider-Man's Spidey suit flex, see the veins of Hobgoblin's pumpkins pulsate and explore every last detail of Doctor Octopus's face.
Technology that wasn't available thirteen years ago has enabled the enhanced Amazing Adventures of Spider-Man to be exactly as the Universal Creatives dreamed it could be. "The technology didn't allow us to do what we did today," senior vice president of Universal's Creative Studio Thierry Coup said yesterday, "It's great to do what we dreamed about back in 1999." The new Amazing Adventures of Spider-Man will feel like a totally new Spider- Man adventure, with additional content in each scene.
Ever since Universal Orlando launched The Wizarding World of Harry Potter to the world, the theme park standard has risen higher than we could have ever imagined and Universal wants to make sure they are the ones that continue to set that standard!
This year is Universal enters into its hundredth year in business. The entertainment company will continue to release new rides, new attractions, new parades and celebrate throughout the entire year...so it's not too late to get those
Universal tickets
just yet!